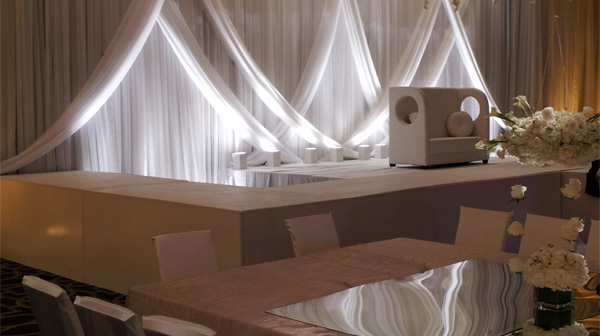 Most stages have a black surface, which is great for concerts, festivals, and choral risers.  However, when you are doing a fashion event, wedding reception or high-end corporate event, you need to make sure the stage matches the decor and theme of the event.  What better way than using white stage rentals by In Depth Events?
White stages are incredibly flexible when it comes to the overall look and feel of an event.  In the proper setting, a white stage or runway can portray elegance and grace – but can also be used to express simplicity in an event design.  To help you achieve the perfect look for your event, we provide our white stages in two ways: either with a hard surface and skirting, or by using carpet and cloth skirting to complete your look.
The two available types of white stage rentals – and how we build them
With hard surface and skirting, we pre-paint Masonite in our warehouse and fit the pre-painted materials onto the top and sides of the staging structure on the show site. Hard skirting and surface is great for a modern look. Or it can be used to create an artsy, decorative-style stage. Our technicians and carpenters can work with you to make sure the stage looks perfect, and can even create custom step units, multi-level stages and stage thrusts.
Using carpet and cloth skirting provides a softer, more classic look.  Skirting is made from velour cloth, and typically gathered at 3 to 6 inch centers. Onsite, the stage is built, skirted and then carpeted using the colors and carpet weight you have discussed with our friendly event professionals. Carpeting has another great advantage – it cuts down on foot noise with large groups on stage.
In either case, you'll find our event staff is willing to work with you to make sure the finished look matches your event vision exactly.
Please feel free to Ask Us a Question  about our white stage rentals.  We look forward to working with you on your event!