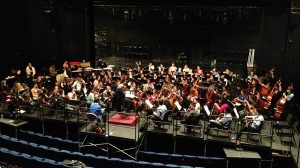 Rental stage thrusts are stages that have been built as a temporary addition to an existing stage. Stage thrusts can be used to create a more intimate performance space by extending the stage into the audience, or to give a smaller stage a larger performance area.  When used properly, they create a stunning effect that really makes an event unique.
While most thrusts are built in houses of worship or in theaters, you'll also see them used in auditoriums or concert venues. They can be especially difficult to build in theaters because they have to span existing seating or a gradual rise in the seating area.  Some theaters will go so far as to take existing seating out to build thrusts and sometimes a house of worship will remove pews that are in the way of the thrust.  Generally, however, it's easier to build over the existing seating or pews.
Types of events that use stage thrusts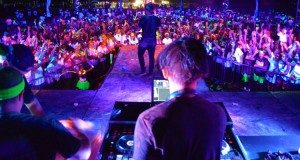 The most obvious example of rental stage thrusts is a fashion runway, but there are all sorts of other events that use thrusts.  Musical theater directors can use thrusts and you'll see them used in concert performances as well.  Corporate presentations can use them to get a presenter or CEO more in touch with their attendees.  Political events use them as well.
In Depth Events has built thrusts in all types of venues in the Dallas, Houston and Austin markets as well as across the country! Our clients know the difference between novice companies and staging professionals and they come back to our friendly sales people and knowledgeable technicians event after event.
Ask Us a Question for your staging needs and find out how we can assist you! From CAD design to completion, you'll be more than satisfied with our service!
On day of load in, our event crew will be there early with tools in hand and professional attitudes.  Watch the sawdust fly as the custom pieces are integrated into our staging structures.  A custom stage rental resembles a giant puzzle being put together – so sit back and watch our crew put it all together within the time constraints needed for your successful load in and show.
Ask Us a Question to find out how our event staff can make your ideas for a custom stage rental become reality!