At In Depth Events, we provide both frosted acrylic pool cover rentals and clear acrylic pool cover rentals. Our swimming pool covers can be used for dance floors, additional lounge or seating areas, or ceremonies and product reveals. A frosted acrylic swimming pool cover can help enhance the amount of space used to entertain at your event while showcasing your beautiful pool.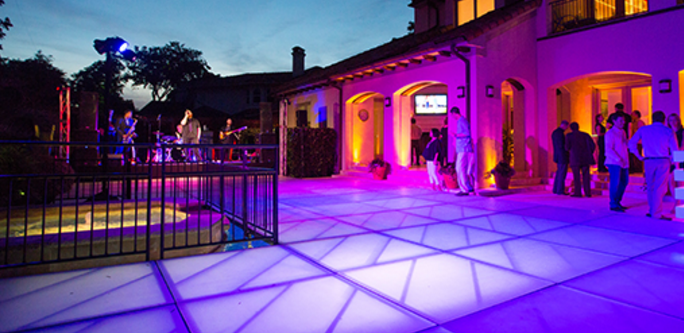 Providing frosted acrylic swimming pool covers for events
Acrylic Swimming pool covers are built to create a safe and exciting surface for your guests over an existing swimming pool. Our frosted acrylic pool covers are a financially sound option providing elegance and safety in a cost-effective option.
A frosted acrylic pool cover is built using our 4'x4' steel frames, with legs actually placed in the water at 4' centers. This allows an exceptionally safe structure base. From there, we install sheets of clear acrylic that have been sandblasted on one side. This process enables the floor's surface to have texture and provides diffusion of light through the panel.
With this unique surface, light from the pool comes up through the floor and makes the floor glow. We can also provide additional lighting under the pool cover for exciting and dynamic visual displays visible through the floor. Other options for our acrylic swimming pool covers include checkerboard design, partial covers and bridges, and multi-level covers. We have an in-house shop to design all of our custom pool cover rentals, so we have many more options for you to choose from. 
Professional pool cover installation
In Depth Events has a staff of professional designers, welders, and technicians to ensure your acrylic pool cover is everything you expected. Our installation technicians travel the U.S to install pool covers in private residences and commercial properties.
Our owners work side by side with our staff. They have taught them how to implement the principles of timeliness, professionalism, and attention to detail in every event we do. We would love for you to allow us to show you the potential your pool has. Your event is as important to us as it is to you.
For more information about our services, contact our team today. You can also try out our instant pool rental quote tool.