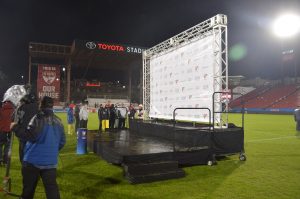 At In Depth Events, we are the stage rental experts.  We've had calls for all types of different stages, but the ones that really rock and roll are stage rentals that literally roll!
Rolling stages are typically used on film shoots, special events or theatrical presentations that require props or set pieces, or events where staging has to move in and out quickly (like a halftime show at a football game).
Our rolling stages come in a variety of sizes, or can be custom built to your specifications including caster size and style of caster for sensitive surfaces. We're happy to provide CAD drawings and stamped engineer certificates for even your most demanding staging needs.
How we build our rolling stage rentals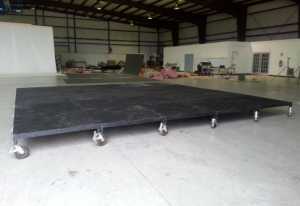 Rolling stage rentals are tricky because in larger applications, the center of the stage can buckle while being pushed or moved into place.  The answer to this problem is twofold – using the correct, weight rated casters for the application and surface – and adding extra bracing for the stage itself.
All rental stages are designed to lock together. But in rolling stages, we also make sure to bolt each panel together as well.  Extra stage bracing is used to combat lateral movement, as well as the normal downward stage load.  The result is a stage that can rolled into place, the wheels locked, and ready for the show!
Ask Us a Question about rolling stages and find out why clients come back to In Depth Events for all their staging needs.  You'll find our technicians to be masters of their game and we work within your timeline to ensure your production needs are met.  We look forward to hearing from you!
On day of load in, our event crew will be there early with tools in hand and professional attitudes.  Watch the sawdust fly as the custom pieces are integrated into our staging structures.  A custom stage rental resembles a giant puzzle being put together – so sit back and watch our crew put it all together within the time constraints needed for your successful load in and show.
Ask Us a Question to find out how our event staff can make your ideas for a custom stage rental become reality!