Rental swimming pool covers for special events
Our swimming pool cover rentals take the walking on water phrase to a whole NEW level. Swimming Pool Covers allow you to maximize the area you entertain in by creating a safe and beautiful platform for guests over your existing swimming pool. By covering a swimming pool with acrylic or utility staging, you expand your usable area for your event while providing a unique and fun look. Our clients use this extra space for dance floors, band stages, and additional seating. At In Depth Events, we are the staging experts, and we've provided rental staging for swimming pool covers for commercial and residential pools.
Our clients include hotels, casinos, and apartment complexes, as well as residential homes! Our swimming pool covers have been used for dance floors, large corporate events, fashion shows, corporate parties, and grand openings. For our residential clients, our rental staging has covered swimming pools for private parties, wedding receptions, and Bar and Bat Mitzvahs. Whatever your event, In Depth Events is there with swimming pool covers and full production services for clients that need a turnkey production provider!
And when we say custom, we mean it. We have an in-house metal and wood workshop to best fulfill your needs in a timeley mannner.
Types of swimming pool cover rentals for special events
If you need a pool cover rental, there are typically four types of swimming pool covers we can build. We also offer more customized options by request. Whether you want to transform your backyard for a private party or host a large corporate event, there's a perfect pool cover rental waiting for you.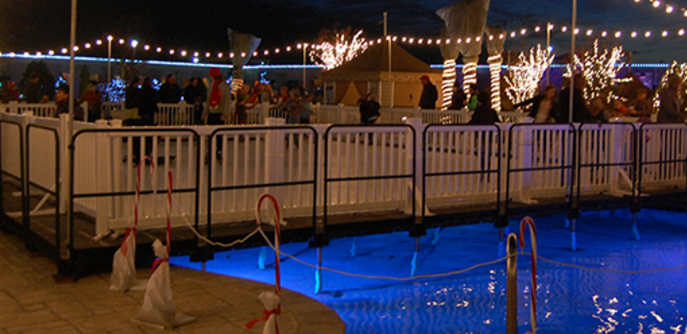 Black Utility Surface
This pool cover is our most inexpensive option. We use our normal staging panels to cover your pool. Our normal staging panels are a black plywood top. This type of cover is used mostly for additional seating or for a band. We can also use this type of cover as a base for carpeting, dance floors, wood flooring, or other surface types. You can find out more about our black utility surfaces on this page.
Learn More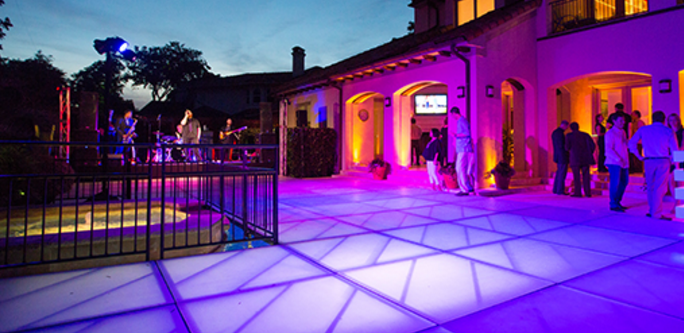 Frosted Acrylic Surface
Frosted acrylic is our most commonly used pool cover, and it's not hard to see why. Frosted acrylic panels provide a beautiful, durable surface that is used as a dance floor or lounge area. By used frosted acrylic, light comes up from the pool allowing the floor to glow. You can find more information on our frosted acrylic pool covers on this page.
Learn More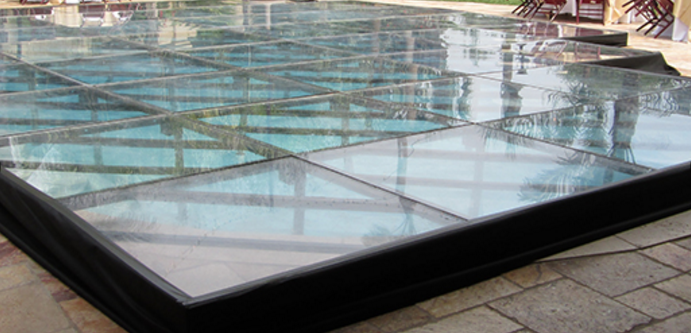 Clear Acrylic Surface
When most people envision a pool cover, they think of clear acrylic – and for wedding receptions and black tie events, a clear acrylic floor is the only way to go. Clear acrylic panels allow guests to see down into the pool, providing a unique and breathtaking surface for a dance floor over water. Find out more about our clear acrylic pool covers on this page.
Learn More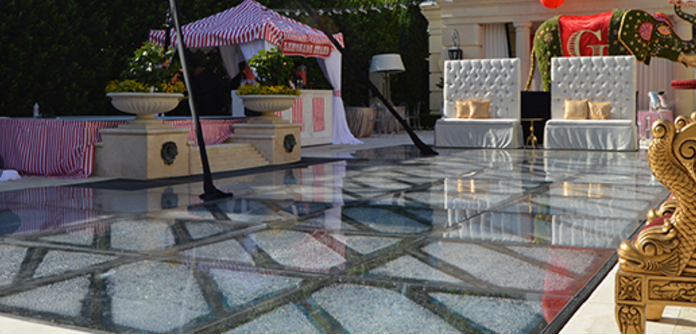 Flush Mount Surface
A flush mount pool cover is typically used in commercial properties, such as a casino or hotel pool. A flush mount pool cover is specifically created and custom welded so that there is no step up onto the cover. Rather, they are made to fit into the pool itself, so there is a smooth transition from the pool deck to the cover surface. You can find more about our flush mount covers on this page.
Learn More
Additional Options for swimming pool covers
Don't feel locked into any ONE choice; we have many other options to check out! If you know what you want and need an instant quote, you can head over here.
Lighted Pool Covers – Dust off your dancing shoes and try out your go-to moves with our lighted pool cover rentals. Adding custom lighting gives your dance floor dimension and that extra WOW factor for your guests. 
 We have several options for lighting for your special event, both on the water and décor lighting.
Checkerboard Pool Covers – For our "I want it all" clients, get all three types with our checkerboard pool cover rentals. You will impress your guests with a blended cover of black utility, frosted acrylic, and clear acrylic. This helps you stick to your budget AND have a timeless style you will love. 
Logo Placement – Stay on brand with our logo pool covers. From corporate events to trade shows, leave your mark with branded pool covers.
Custom Services – We pride ourselves on flexibility and innovation. Those standards help us provide unique and creative pool covers for whatever your needs may be. Need a multilevel structure or maybe a partial cover? Whatever your ideas are – we want to hear them. Allow us to create your perfect swimming pool cover!
Why should you use In Depth Events for a Pool Cover at your next event?
Hey, if walking on water isn't your thing- we might not be for you. But if you want beautiful custom pool covers for your event, you're in the right place. Our swimming pool cover rentals act as an extension to your space. All of our pool covers can be customized to fit YOUR needs. We build our pool covers in-house with our wood and metal shop, so when we say custom- we really mean it. All of our swimming pool covers are built following ADA guidelines, so they are a safe and regulated option for you and your guests.
Our experts have traveled all over the U.S.A providing custom pool covers to casinos, private home events, corporate events, and hotels. So you get years of experience for your custom pool cover rental. Working with our team ensures an ideal experience. Our staff is always on time, with great attention to detail, and a true PASSION for our clients. Our owners have worked in the event rentals industry for over 25 years and work side-by-side with our staff to ensure your event is nothing short of spectacular.
For more information about our services or a quote, reach out for a no-cost consultation. We look forward to hearing from you and working with you!