What is Cryo & CO2 Effects?
CO2 special effect rentals and Cryo special effect rentals can be used in a variety of ways to provide unique and dynamic special effects for live events. Cryo effects use compressed CO2 gas in different ways to provide effects that engage your audience for almost any type of live event! Cryo and CO2 rentals can be used in both indoor and outdoor environments and, as an added bonus, can be used in venues where particulate foggers, pyro, or confetti is not allowed. At In Depth Events, our focus is providing our CO2 jets for larger concerts, festivals and corporate events all over the country.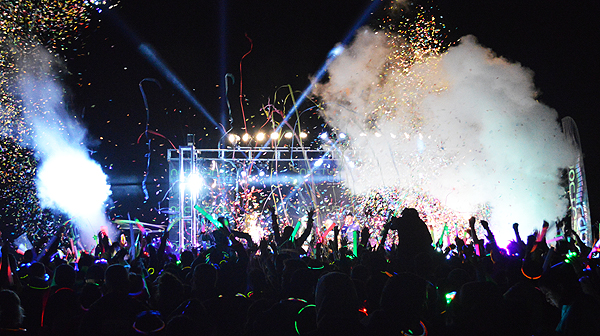 Cryo special effects rentals are typically short bursts of CO2 cannons that create a plume of fog up to 10 feet from the nozzle. These Cryo special effect cannons can be mounted on the ground, in truss, or on overhead batons and can be used in indoor or outdoor environments. Each plume of fog can be triggered for short or long bursts and are particularly effective when using theatrical lighting. A well timed, multiple cannon Cryo effect rental will definitely make your audience stand up and take notice when used for a reveal, an award presentation or as a highlight at a concert of festival event.
Compressed CO2 is used in other types of concert and theatrical effects. T-shirt cannons, CO2 guns, and even confetti blowers use compressed CO2. In addition, there are several varieties of rental CO2 jets. These can be made to come in single jets, double jets or triple jets as well.
Why choose In Depth Events?
Our rental CO2 jets are an amazing addition to your show. Most recently, our experts were asked to bring rental Cryo jets to provide a dynamic entry for NCAA gymnastic athletes. In the last few years, our experts have also been called out to bring our rental CO2 jets to corporate events, EDM concerts, festivals and our world-famous glow parties.
We want your experience with all our products and services to be fantastic. That's why we insist our technicians are involved in every rental we provide. For more information on our CO2 rental services, please Ask Us a Question. We look forward to hearing from you and working with you!