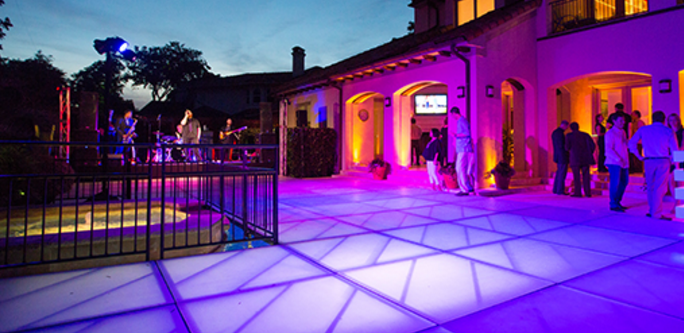 Move the sliders to select the length and width of the pool.
Additional Options for swimming pool covers
Who doesn't like options? If you don't see what you want here, we can always customize whatever you need with our in-house wood and metal shop.
Lighted Pool Covers – Many times, a client will ask us to provide lights that add an extra dimension of fun for their pool cover dance floor. We have several lighting options for your special event, both on the water and décor lighting.
Checkerboard Pool Covers – If you can't choose between black utility, frosted acrylic, or clear acrylic, why not choose all three? We can provide different panel types in checkerboard patterns for your pool cover. This allows the surface to be used for various activities, and can also help with budgets.
Logo Placement – Corporate events are always looking for unique branding opportunities – why not put your logo on our pool covers! This option has been used successfully for companies looking to provide a branded, memorable experience for trade show attendees.
Custom Services – We're the experts at pool covers, and that means that we work with you to create the perfect event. Looking for a multilevel structure? A partial cover? Maybe you'd like different surface types than we've discussed here. Whatever your ideas are – we want to hear them. Allow us to create your perfect swimming pool cover!
Why should you use In Depth Events for a Pool Cover at your next event?
Swimming Pool Covers offer a stunning extension to the space you plan on entertaining in. Our covers can be customized to fit your exact needs and are built in our in-house wood and metal shops. All of our Swimming Pool Covers are made under ADA guidelines to ensure the safety of your guests. Our experts have been all over the United States, providing pool covers for hotels, casinos, and private homes. Make sure to use our experience to your advantage!
Having our own wood and metal shop allows us to customize the pool cover you desire for your event easily. Our staff is professional, timely, have excellent attention to detail, and are passionate about our clients. Our owners have over 25 years of experience in this industry and work side-by-side with our staff to ensure that your event is amazing.
For more information about our services or to get a quote, please ask us a question. We look forward to hearing from you and working with you!