Keeping the Press Happy with a Press Riser
Press risers rentals are used at political events, store openings, groundbreaking ceremonies and other events that can generate local or national interest.  Chances are, if you have a press liaison for your event, you are going to need a press riser for your event!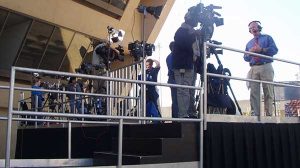 Making sure that the press has the best shot possible is a big part of making sure your event makes it on the evening news.  The press likes a good head and shoulders shot of the talent or guest speaker.  Shooting upward makes for a bad shot. Most press staff like a straight on shot or, even better, one where they are slightly elevated.  Cut away riser rentals are nice for additional video or still shots – and will get you one step closer to a print article.
Additionally, a stable, multi-level riser is critical for making sure your event is covered by the press.  Our press risers rentals typically come with safety rail around the entire press riser structure.
Additional production services required by the press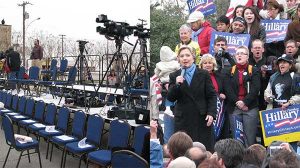 In Depth Events can provide more than just press riser rentals.  We also provide press boxes (to split out audio signal to multiple cameras) and power distribution systems – including generator rentals for outdoor events.  We can provide audio systems that amplify the event to live attendees as well as providing a clean audio signal for the press feed.  Additionally, we can provide HMI and color-corrected lighting to make sure your speaker is crisp on camera.  A stage rental for your presenter will make sure to give the camera personnel a clean, head and shoulders shot above the heads of the crowd.
When you use In Depth Events for production and press riser rentals, you'll find that our technicians are well dressed professionals.  Call us, and you'll find that our sales staff are happy to answer any questions you my have.  Ask Us a Question to find out more about how our technicians create the best press riser rental you'll find anywhere in the State!