Providing elevated seating risers is one of our core businesses at In Depth Events. We are one of a very few companies in the United States that handles these types of structures. After all, seating hundreds of event attendees on a temporary riser structure can be a difficult task! Our experts can help explore what it takes to build these types of audience seating risers, the proper applications for them, and the process of working with building codes and ADA requirements to provide a safe, engineered structure.
Applications for rentals of Audience Seating Risers
There are several different types of specialty audience seating that we address in other sections of our website. Click the links to find more information about outdoor risers used for parades or sporting events, choral risers, and even specialty risers for concert observation platforms.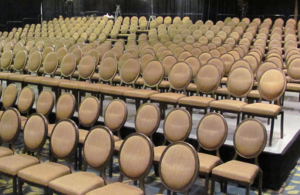 However, this page of our website is specifically for audience seating risers used for indoor corporate, theatrical, and sporting events. The basic premise behind using audience seating is to allow the audience elevated seating, making sure that each seat in the room has good sightlines to the focal action in the room. Sometimes, that's an indoor tennis tournament, soccer tournament, or robotics tournament. Sometimes, it's a black box theater presentation. However, the most common use for indoor seating risers is corporate presentations. When doing a motivational presentation to company sales teams, training management, or doing an awards ceremony for your most valuable employees, it's incredibly important to make sure each seat in the house is a good one. That's where In Depth Events comes in – we provide the elevated seating risers that make sure every single person in room has a clear line of sight to the presentation.
There are several options that are application-specific to the audience seating riser you need for your event. Many of our risers are built with an integrated Front of House platforms, or camera platforms. Some of our clients use carpeting to make the riser more luxurious to their attendees, while simultaneously cutting down on foot noise. Seating risers can have different tread depths and heights, depending on the specific needs of the client's chair selection for their event. In addition, some clients have opted for power drops for chairs with charging stations built in, or powered recliners. Regardless of the specific needs for your risers, In Depth Events has the experience to provide the safest build possible.
Building Codes, ADA Requirements, and Making Sure the Fire Marshal Stays Happy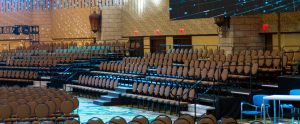 At In Depth Events, we've built seating risers that literally hold thousands of people for a single event. A structure like this, that holds hundreds of tons of live, moving people, requires a little more than a positive attitude! The first step is to create a CAD drawing that is shared with the client, the venue, the Fire Marshal, and sometimes, the municipality your event is going to be held in. Once the client and the venue agree to the size, amount of people, and style of seating, then the Fire Marshal and municipal inspector (if involved) will review the drawings to make sure they adhere to local building codes as well as ADA requirements. Once the structure itself is approved as drawn, the Fire Marshal will check to make sure the placement of the structure allows plenty of access to the entrances and exits to the hall or ballroom the event is going to be held in.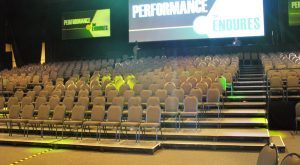 Once everyone has approved the drawings, we are ready for load in. In areas where the municipality gets involved, an inspection is set to make sure the structure is being built to specifications. Once the inspection is completed, we receive a green tag, certifying that we've followed municipal codes and safety requirements. If the municipality doesn't get involved, the Fire Marshal has final authority on safety and allowing the event to continue.
At In Depth Events, we are safety experts and have been certified as building contractors in several municipalities. We work well with Fire Marshals and venue to get your seating riser built on time and in budget. Please feel free to ask us a question. We look forward to hearing from you, and working with you!