Serving Dallas, Houston and Austin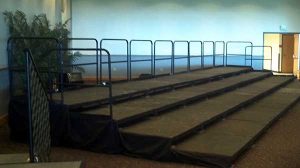 Photo Risers rentals are a 'must-have' when you are shooting group shots for large groups of people.  We work with professional photographers to provide photo risers rentals for all types of groups, from hundred of people to just a few dozen.  We provide indoor photo risers as well as photo riser rentals for outdoor shots as well.
We work closely with photographers to make sure they get the perfect picture.  Tread height and tread depth are just two of the factors we consider when setting up a riser.  For outdoor environments, we also consider where the sun will be at the time of the shot as well as shadows from other structures that might be around.  Our photographer clients appreciate that our on site managers have an eye for detail and can offer suggestions on best placement for your shot!
Offering photo riser rentals for multiple types of shoots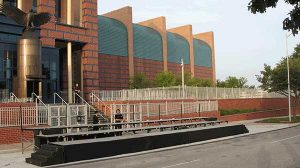 In Depth Events has built photo risers for all types of companies, universities and events.  It's not uncommon to see high school football players on our risers as well as company photo shoots with hundreds of people in office attire.  Of course, we also provide press risers for larger political events as well.
Our professional staff is accustomed to demanding schedules and locations. You'll also find that we are extremely safety conscious, and always verify that handrails, backrails and individual sections are within operating limits to make sure your group is safe at any level.  Our staff takes special care of senior groups for reunion or military photo shoots.  We are registered as Certified Building Contractors in most major cities in Texas and can provide certified engineer drawings if needed.
Ask Us a Question to find out about our rental photo risers in the Dallas, Houston and Austin markets. The picture will only take a second – but the memory on our photo riser will last a lifetime!