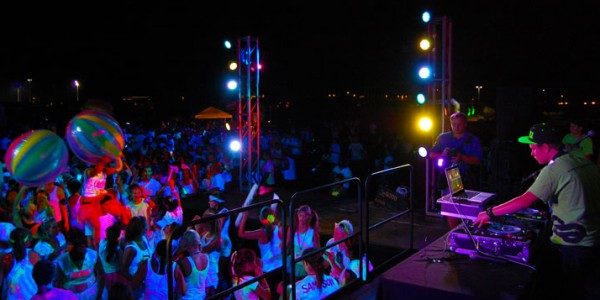 At In Depth Events, we provide large scale glow party events for corporate clients, outdoor glow runs, college events and other large events with high numbers of attendees.  We work with event planners and organizers from all over the country to provide events for thousands of people.  This blog post is designed for this level of event.
If, however, you are putting on a glow party for a sweet sixteen birthday party, your personal Halloween party or a backyard party for your favorite 50 people – we respectfully suggest you go to Cool Glow and order for your specific needs.  They have an amazing selection of glow stuff for smaller, private events.
So, what is a Glow Party, anyway?
Glow Parties, Neon Parties and Black Light Parties can be indoor black tie corporate parties or they can be nighttime outdoor festivals. But the main thing that unites them all is FUN!  Whether it's an outdoor fun run, a Neon New Year's party or a college party, Glow Parties are a great way to have a memorable, exciting event.  There are three different types of products that are used for all Glow Parties:
1 – UV lighting.  Black Light lighting rentals, also called Ultra Violet lighting, are necessary for a glow party.  Using UV lighting allows UV reactive clothing, paints or other items to glow.  Although it's nice to have specific items purchased for their ability to glow, you'll be surprised at how much stuff you normally carry around, interact with or wear will glow under UV.  There are even several bar items that will glow under black Light without special treatment!  The major manufacturers of conventional UV lighting are Wildfire and Altman – and, of course, there are LED products from large scale to small flashlights that project UV.
2 – LED battery powered items.  It's hard to remember a time where LED lighting wasn't in everything – from the flash on your phone, to lights in your car dash, to security lighting – and party items!  You can buy battery operated LED's in almost any shape or size.  There are wigs with LED lighting woven in them, clothing, as well as buttons, teeth, ice cubes and even furniture.  More formal corporate events can use LED bars, set pieces and DJ booths.  Many events use LED Dance Floors as the centerpiece of the party.  Since LEDs provide visible light, they are used in conjunction with UV lighting to create vibrant, saturated colors.
3 – Chemical glowing items.  These are the glow sticks that you 'break' to activate the glowing liquid inside.  These plastic tubes are filled with two non-toxic chemicals.  What you bend the plastic, a thin tube of glass inside the plastic tube breaks, mixing two chemicals that provide glowing light for 2-4 hours.  You can find these most often in necklaces, bracelets and, of course, glow sticks.  They are great as fun, inexpensive giveaways at outdoor and indoor parties.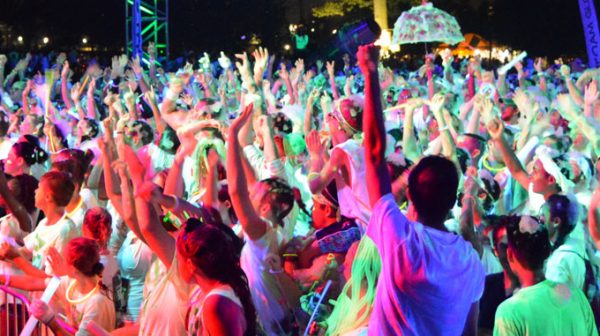 Production rentals for large scale Glow Party Events
As you may remember from your college dorm – Black Lights don't produce visible light.  As a result, you need a combination of UV lighting, LED lighting, and theatrical lighting rentals to provide the perfect glow party.  Wall washes work well, but why stop there?  Moving light rentals, LED Dance Floors, gobo projection – even special effects like confetti and cryo bring a Glow Party together for your attendees!
It's incredibly important to find the right vendor for your Glow Party Events.  Whether it's a thousand people in a hotel ballroom, ten thousand college students in an auditorium or twenty thousand people at a 5K fun run, you need a vendor with specific experience in Glow Party events rentals.  Not only will an experienced vendor have the rental UV lighting fixtures, special effects equipment and rigging equipment in their rental inventory, they will also have the knowledge and experience for rigging in indoor environments, working with fire marshals to provide engineered drawings and working with electrical power necessary for both indoor and outdoor Glow events.
The right vendor will be able to provide pictures of previous events – and pictures of more than one event!  Check references of both clients AND vendors.  Finally, get a Certificate of Insurance.  A reputable vendor will have no problem providing a CoI to your organization and your selected venue.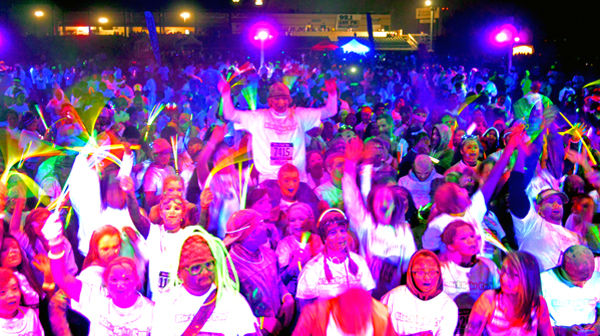 The Shameless Sales Plug
The staff at In Depth Events has been involved with Glow Party events and Black Light production rentals for several years.  We are one of a handful of companies that provide large scale UV for all types of events.  You can visit parts of our site that deals with production rentals for Glow Parties – from Glow Party Experts to our All-Inclusive College Glow Parties. Make sure to visit our LED Dance Floor pages – once there, you can even get an instant rental quote!
Once you've checked us out, then make sure to Ask Us a Question about your upcoming event.  Our experts will work within your budget and vision to make sure your Glow Party Events are incredible for your attendees.  We look forward to hearing from you and working with you!