I'd like to consider myself your average, run of the mill thirty something.  I wake up, go to work and come back home like any other red-blooded, taxpaying American.  I am becoming increasingly aware, however, that most of what I consider to be standard weekend nightlife activity is not doing me or my health any favors.  After years of cheese fries and buffalo wings being the only thing between my liver and an onslaught of an untold number of sugary, overly-caffeinated alcoholic drinks, part of me is turning to more sustainable behaviors as I quickly approach my 40s.
"We're meeting on the baseball diamond at 5," the instructions said. "Park behind Right Field and DON'T BE LATE!" I give myself a 15 minute cushion because, please… I'm a responsible adult. I am WAY beyond all  the careless and haphazard decisions of my youth. Meanwhile, I follow my GPS directions to find  a single file line of cars 2 miles long directly in front of the entrance. Ok, panic. Text the Event Leader to cover my tail, plead with the parking attendant not to charge me for parking… By this point, I already feel the bass rumble from our massive sound system as I duck under a broken fence post and arrive on the field just in the nick of time.
"Glad you decided to join us," I hear behind a wall of Electronic Dance Music and cheers. The rest of the Event Team had arrived hours earlier to survey the site, unload the trucks, and setup over 5 tons of Professional Grade Sound and Stage equipment. "This is just the pre-party. We're expecting over 11,000 runners, tonight."  Over 11,000?!?  On a cold and windy February afternoon? Why had I never considered this?
And they came. Wave after wave of bright-eyed runners poured onto the baseball diamond with various bits of neon flair, a sea of candy-colored athletes waiting for their moment to attack the black light run course, stage by stage.  My first task is to ride along with the Event Lead, fire up the electric generators, turn on the high power black light towers and crank the speakers with trance inducing dance music.  "The runners are beginning to line up. Get to the Starting Line, ASAP!"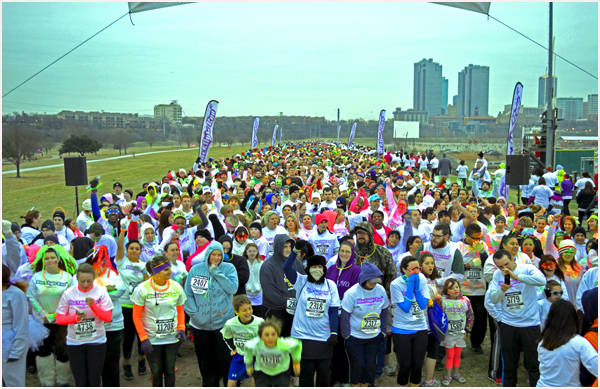 As the sea of glowing distance runners pour past me onto the course, I shamefully recount all my past weekend activities.  It's mostly sitting or standing in one place or another for hours, over paying for food and drinks while I complain about some silly first world inconvenience. I wonder if any of the runners are planning on stopping by Taco Bell after this…
As the runners finish the 5k black light run distance, they file back toward the stage on the baseball diamond. It's dark now, and what was just bits of flair is now a glowing sea of bright neon colors. I'm having flashbacks to all the raves and outdoor tent parties I've been to, but this party has a different vibe.  Take all the magic and power of the biggest warehouse parties you went to in college, remove the sketchy and dangerous elements, add a free range, grass fed kale shake or two – and what you're left with is a pretty good description of a Black Light Run. Loud music, pretty people, glow sticks, but what do we have here? Clean bathrooms? A safe family environment? Concession stands? It IS a rave party… only grown up!
The DJ effortlessly mixes underground dubstep with Katy Perry to the delight of the crowd. A hype man on stage is throwing out handfuls of glow-in-the-dark party favors, as fast as he can. What happens next was MIND BLOWING.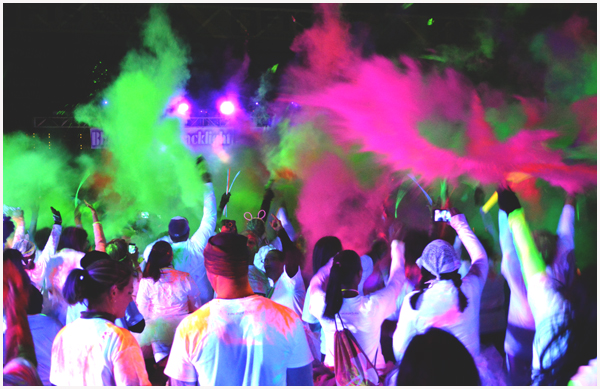 After a knowing look to the DJ and the crowd, the hype man begins a count down from 10.  It's my first Black Light Run, so I look around as the crowd joins in. 3..2..1..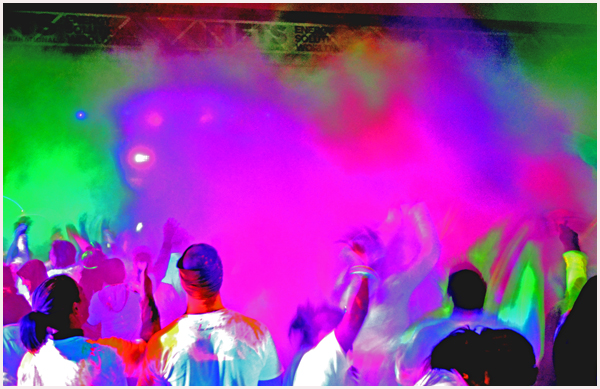 BOOM! The beat drops as clouds of neon colored powder (I later learned is treated corn starch) envelopes everything in sight. I can't see the hand in front of my face but I can feel the crowd explode with energy as they disappear behind the cloak of colored fog.  As the neon dust settles and the stage and lights slowly come back into focus, it dawns on me. THIS IS REALLY FUN!  Looks like I'll be spending more time with my new co-workers at In Depth Events!
Hopefully this blog has been informative for our event planner clients! For more information on In Depth Events and our event production capabilities, please Ask Us a Question today. We look forward to hearing from you and working with you on your event!