How our Production Crew Turns a Live Event into a Glowing Marketing Extravaganza!
Understanding what events work and which never live up to the hype takes walking a very fine line. Now, more than ever, our live event marketing industry is looking for new, unique and innovative ways to get their clients and brands message across to event attendees. How does a marketing firm create this type of environment? They need help from innovative production companies! It's important to choose a production company that has experience working with marketing firms. Only the two combined can create strategies that will incorporate the experiential components essential in making a truly successful (and memorable) live event.
A great example of our willingness to work with clients on experiential event trend is our Black Light 5K's. At In Depth Events, we provide several clients with the live glow events elements necessary to cover crowds of up to 15,000 with high intensity UV in outdoor environments. These events are executed nationwide – offering a unique and memorable experience for all guests from all demographics. Event though my title is Live Event Market Manager, I was recently invited to help our crew build a Black Light 5K in Pomona and have a new found respect for the hardworking technicians that are my co-workers.
Hard at Work with the Black Light Production Crew
It starts with the team setting up the stage and trusses the night before in the center of the race track. It takes about 4 1/2 hours to complete the 20 foot x 20 foot stage and ADA ramp. It's braced, locked in place and reinforced to provide stability for the DJs. And it's built level on very un-level grassy ground. While the stage was being built, another crew built trusses at the start and finish lines of the race. This involved setting up pieces that were 20 ft. high with black lights being secured to all sides of the structure to create the glow effect the client required.
The next day the team returned at 8am to continue the build. They had their work cut out for them as they began creating peripheral staging to hold additional speakers to enhance and magnify the ultimate sound experience for the Black Light run participants. They set up 2 mini stages directly behind the main stage to literally pump up the volume. This turned out to be essential as the crowd far exceeded the expectations of the organizer!
Lighting and fog equipment for live glow events has to be secured to additional trusses that were placed on stage to help create the ultimate dance party experience which occurred directly after the run portion of the event. While half the team continued to finish setting up the sound system, lighting, and black lights for the main event area, the other half of the production crew had to set up even more trusses, lighting and audio at four additional locations throughout the run path.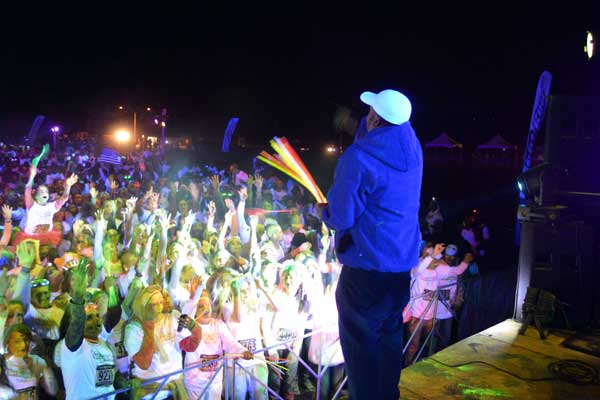 Attendees began arriving at 4 pm and the gates were opened at 5 pm. The first wave crossed under the start line at 6:30 pm, and, after completing the race, went straight to the party area where the DJ's were pumping music into the crowd. On entry to the party area, each attendee was given packets of UV reactive powder to throw in the air, on their friends or themselves! During the event, nearly 15,000 attendees showed up to Glow the night away under the high intensity, long throw black lights that were set up by our crew. These attendees came from every demographic and included every age group. However, the primary demographic seemed to be young couples with kids, definitely in the middle to upper income range and fitness minded. It was hard to see who was having more fun – the 30-something parents or the 12-17 year old kids at the stage barricades! Everyone was dancing the night away, glowing in UV reactive clothing and covered in UV reactive paint.
How to turn the Black Light Run into a promotional vehicle for my clients' brands.
Since I was a guest on the production crew, I also was privileged enough to help with load out – and, I gotta tell you, it comes down much faster than it goes up! While I was working with the technicians, my mind turned to how I could use this event experience to promote my clients brands. Would live glow events work for promoting a sports brand? What about a non-profit? Can a glowing logo make a better impression than a print logo? Which of my clients would be interested in having their product presented at such a unique event in front of 15,000 consumers with disposable income?
The answer is, of course – all of them! But how best to utilize my new-found knowledge to help my clients? A sports drink client could certainly do giveaways. A sporting manufacturer could certainly give away UV reactive t-shirts. What if a client was willing to build an entire event to promote their brand? With a dedicated base of customers, a well-planned event could generate significant impressions for any of my clients. As I limped back to my car with the loaded trucks behind me, I was thankful that I do live event marketing for a living, and not production setup! I'll be reaching out to my clients with my new ideas – and with the crew of In Depth Events in my back pocket, you'll be sure to see my clients brands glowing soon!
I hope this blog has been informative for our event planner clients! For more information on In Depth Events and our event production capabilities, please Ask Us a Question today. We look forward to hearing from you and working with you on your event!