Commencement guidelines UPDATE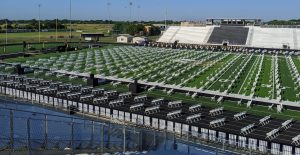 It's no secret that the world has gone virtual. Everything from working, to distance learning, and even graduations are being held virtually. As you know, the Spring of 2020 made us all reevaluate how adaptable our businesses are. Since then, we have seen a steady increase of video streaming needs, so this is the perfect time to get you connected. Virtual and hybrid events are becoming the new normal and having the proper equipment and set up is crucial to keeping up with all of these changes. At in Depth Events we have heavily focused on cloud-based live streaming for years. We also have full video production services, video equipment rentals, and mobile/permanent studios. We understand the importance of high-quality video streaming and we would love to help get you set up.  
Byron P. Steele High School – 2020 Graduation
So who is video streaming for?
This is a great question with an easy answer, ANYONE! Everyone from small business owners, to musicians, and even yoga instructors can take their business online and still create a steady stream of revenue. This is also a perfect option for educators, virtual events, and concerts. We have also seen a major increase in the need to take commencement ceremonies virtual and even family gatherings. Whatever the reason may be, here are some ways to get started.   
What are the benefits to hybrid and virtual events?
There are several benefits to taking your business or event online. Whether you are a small business owner or even a musician, you can easily monetize your live streams.  We have also found that educators and even fitness instructors are finding ways to teach online. This is a great option to reach a larger audience and potentially double your revenue. Think about it, if there is no in-person requirement you can open your business to the entire WORLD. This model is being successfully implemented in most industries. Currently there are several ways to to stream including, YouTube, Twitch, and even Facebook. There are several ways to monetize your live stream. You can raise money, sell e-tickets, and donation based, or use a membership platform.  
So how does this all work?
There are several ways to get started. First you need high-quality equipment, then a platform to stream on, and also the ability to market your live stream. While there are many moving parts to cloud-based live streaming, our team at In Depth Events have several years of experience and would love to help you get your business or event online. Contact us today, we look forward to working with you! Feel free to reach out if you want to learn more.  For our latest post on distance learning and digital events- go here.
Samuel Clemens High School – 2020 Graduation
Allison L. Steele Enhanced Learning Center – Class of 2020 Graduation