Commencement and Graduation Stage Rentals – Identifying Specific Needs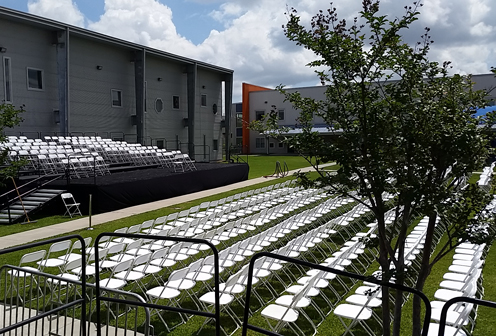 Whether it's for a community college, a high school, a four year university or even a vocational school, commencements are an important transition for students, instructors and attendees. Identifying specific needs for your graduation stage rentals is the first step in making sure the graduation ceremonies go smoothly for everyone.
There are several questions to ask that will determine stage size and height. How many people will be on stage? Is the event outdoors or indoors? Will you require seating risers on the rear of the stage for professors and administrators? How many graduates will you have? Additionally, you need to consider the venue. For example, many high schools will use the football stadium on campus for commencement. A stage that would look huge in a small room may look tiny in this environment. Is there a game the night before or the night of? Has anyone else reserved the stadium? How will vendors get staging and chairs onto the field?
Graduation stage rentals, the ADA and vendor selection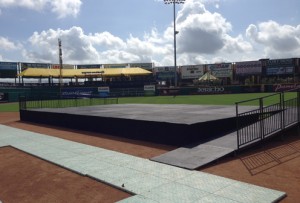 The ADA, or Americans with Disabilities Act, was signed into law in 1990. For staging vendors, it mandates on a federal level the use of handrails and ramps on temporary and permanent stages. In addition to compliance with the ADA, graduation stages must also comply with municipal building codes for staging and structure builds. Some municipalities will also require review by the county Fire Marshall for safety and accessibility.
It's incredibly important that your stage meets or exceeds local building codes as well as ADA requirements. The most successful staging vendors will verify building codes, ADA requirements and fire code requirements long before they arrive to setup your stage. Look for staging vendors who are Certified Building Contractors within your local municipality, or the nearest large city if you are in a suburban or rural area.
The shameless sales pitch for graduation stage rentals
We have been providing graduation stage rentals for many years as well as other production and rental services. Chair rentals, sound system rentals, press risers and audience risers are all within our range of services to our clients.
Ask Us a Question today and find out why our clients return to In Depth Events event experts year after year. We look forward to hearing from you and working with you!