I had doubts about going to this year's South by Southwest show.  Not just my typical jaded and cynical doubts over a perceived loss of authenticity, I couldn't find my passion for the experience. Looking over different press junkets, twitter feeds and blog articles, nothing I came across about this year's SXSW musicreally seemed to speak to me. Where was the giddy excitement of SXSWs gone by? I mean, I had a minor panic attack in anticipation for a Mogwai and Stephen Malkmus show I saw at a South by in college…  Had it finally happened? Was I the frog in gradually heated water that had finally succumbed to the inevitable? Am I irrelevant?
Phew, for a minute there.
The journey begins…
My drive into Austin was uneventful. My idle mind drifting in and out of fantasy. I imagine myself as a post modern Hunter S. Thompson or possibly David Attenborough, sent deep into the jungle of SXSW to document the lives of indigenous flora and fauna.  I pull into the KOA Campsite late Friday to join the rest of the crew who had been in Austin for over a week setting up and maintaining the various stages and experiential footprints we had throughout downtown Austin.
The campground was still. The only activity I see is coming from the KOA kitchen. I see a familiar t-shirt and park my car. Inside, I find enough scrambled eggs, bacon and sausage to feed a small army. Most of our crew was coming back from show site and the available stagehands make sure hot meals are ready for them. I decide to turn in early and prepare for an eventful closing Saturday at SXSW.
By the time I'm up, the campsite is empty. I call the lead to figure out where everyone else is.
"We're already on site. Get down here, park your car and get to our events…And TAKE PICTURES!"
Downtown Austin is already alive and bustling with activity. I grab a cup of coffee, park my car off 3rd St. and begin my trek throughout the vast wilderness that is SXSW.  The hipsters and credit card hippies had already begun their migration to the newly located Main Stage at Butler Park. Streams of bicycles, pedestrians, skateboards; I even saw a pack of Segways all cautiously crossing the South Congress bridge to graze on the endless fields of food trucks and carnival vendors surrounding the Main Stage.
You could hear the roar of the stage miles before you could see it. Crisp and clear, the distinct push of the line array speakers cut through the thick and damp morning air. The pied piper's song was luring millennials away from their lofts with promises of free promotional sunglasses and caffeinated energy drinks. I am led into a maze of metal stockade to be inspected and branded with a wristband at the main entrance before I am allowed to proceed into the festival grounds.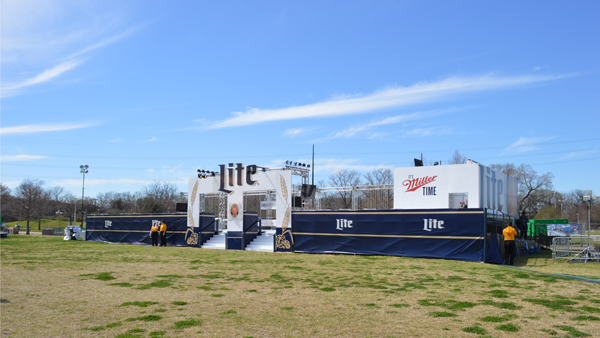 My first visit to one of our many job sites at SXSW music festival was the Miller Lite Lounge at Butler Park.  Our crews provided the structure, trussing, video and lighting for this amazing lounge overlooking the main stage at SXSW this year.  The Miller Lite Lounge was massive and easily had the biggest footprint around the Main Stage. Looking from a distance, the structure looked like a giant cargo ship bringing in huge shipments of domestic beer.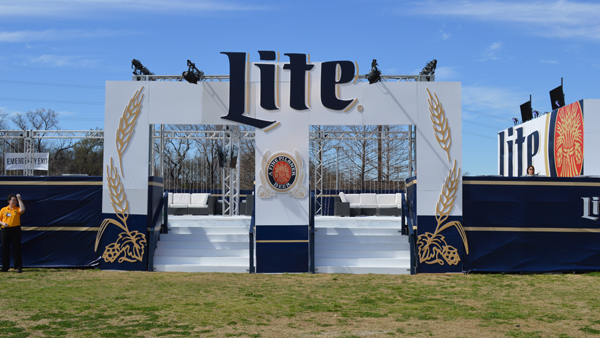 Too early in the day to be active, the sleeping giant rests, waiting to receive the thousands of concert goers looking to rest their legs and recharge their mobile devices.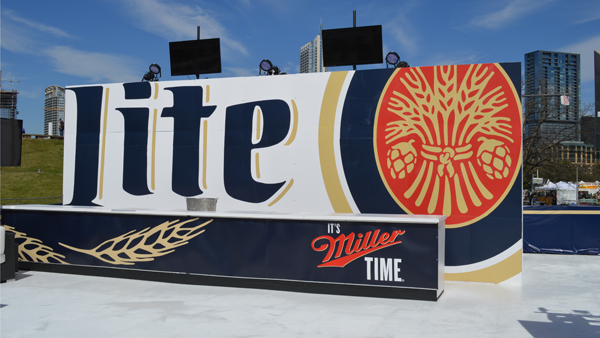 The Miller Lite Lounge is spotless. A gleaming white beacon unsoiled by tracks of mud and dirt. I carefully mind my steps and decide to move onward.
By this time it was early afternoon and the haze of morning had cleared.  Downtown Austin was in full-on SXSW music mode. Live music seemed to blare from every direction. Around every nook and cranny, if there was room to fit a band,  it had been filled. I make my way through the cacophony, stopping frequently to watch glimpses of each performance, not having a clue as to who they were or where they were from; only that they had made it to Austin with their instruments. From across the city, the state, the country and the globe, artists of every shape and size have descended to this single location to collectively spawn their creative energies and contribute to this living and breathing event known as South by Southwest.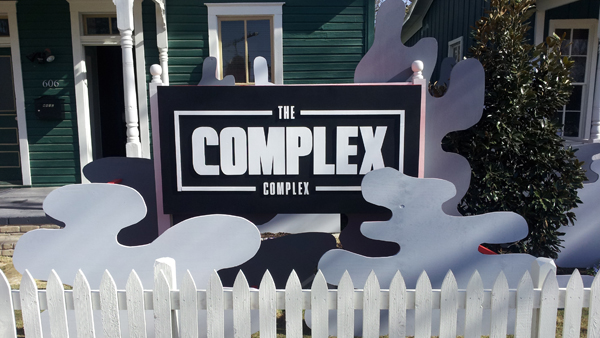 I make my way to my next destination, The Complex Complex.  Back in my relatively quiet offices, I had been the event planner for this show, coordinating the audio, location and load in times for the talented crew.  Dwarfed in size and scale by the Miller Lounge, it was located in the backyard of a small house outside of the Austin Convention Center. Walking up to the front door, I am stopped by security.
"Entrance is in the back. Only artists come through this door."
I shrugged and continued to walk to the back alley entrance. Before I could turn the corner there is more security and lines of people. It's only 2pm. Surely, this can't be for Complex…
"WE ARE AT CAPACITY!" yelled the muscular man in a tight fitting shirt.
"If you don't have an RSVP don't waste your time," says the person in front of me. "It's been this way since early this morning."
I try to shake off the fact that I have just been turned away from my own event. I mean, I don't remember "muscles glasses" making furious last minute calls around Austin to find backline equipment. I text the crew lead to see if our audio engineer can pull any strings for me as I head east to AirBnB Park.
Crossing over I-35, I immediately sense a change in climate. There is a more mellow and laid back atmosphere on the East Side. Recently gentrified by mustachioed mixologists and fixed-gear bike riding baristas, the neighborhoods lack the circus-like energy of 6th St. The stages are hidden behind bars which are peppered throughout a landscape of vintage clothing resellers, record shops and food truck parks.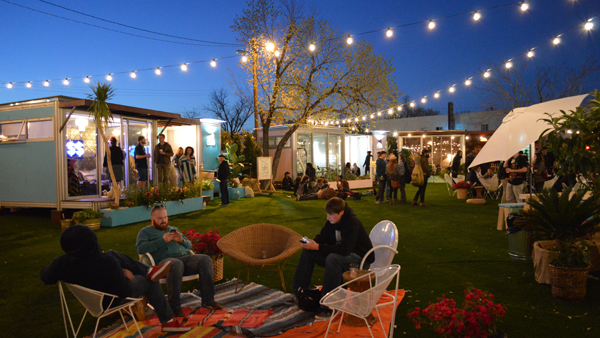 The next stop on my tour of our production events is at AirBnB Park.  This experiential footprint sits comfortably in the East Side neighborhood on the corner of 6th and Onion. The entire space is covered in a bright green astroturf and marked with accents of 50's Americana. Contemporary styled lawn furniture surround faux fire pits that sit outside of superbly decorated modular living areas. I peruse the grounds, catching glimpses into the living quarters designed by Snoop Dogg and Capital Cities.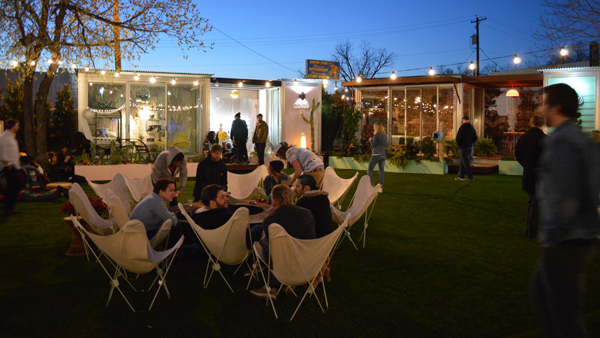 I imagine the well manicured environs of AirBnB Park to be a human exhibit in a zoo on a distant alien planet. The tour guide instructing the alien observers to keep their all their tentacles inside the car and to not feed the humans anything other than locally sourced, farm to table food truck tacos. "The humans have very specific dietary requirements," the alien zoo guide says as a mother alien scolds her son for attempting to poke a tentacle at a sleeping human.
"Paul?"
"Oh hey, Matt. I was just–"
"Great, grab this DJ equipment and carry it to the center pavilion. We have bags over the speakers in case it rains again. Don't let any of the wires get wet."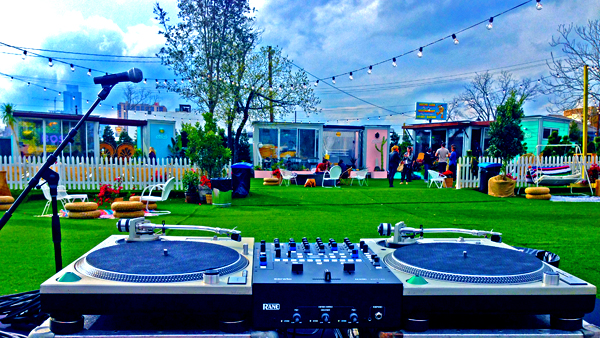 As the finishing touches to the DJ booth are set for tonight's final performance at AirBnB, I finally get a text from the lead with entry instructions for The Complex Complex. I text our sound engineer and begin walking back that way. Just before crossing 35, I spot one of our trucks already on the move for one of our clients. "Do not go gentle into that good night," I think to myself…
Walking up to The Complex Complex again, I try reaching out to our audio tech, this time by phone.
"Hello?"
"It's me, Paul. Your show has been at capacity all day. Can you get me in?
"Come to the front door."
Success! I had finally been given the nod to access my own event. As I hop the mini picket fence and slip back into the backyard, I can hear the crowd going nuts.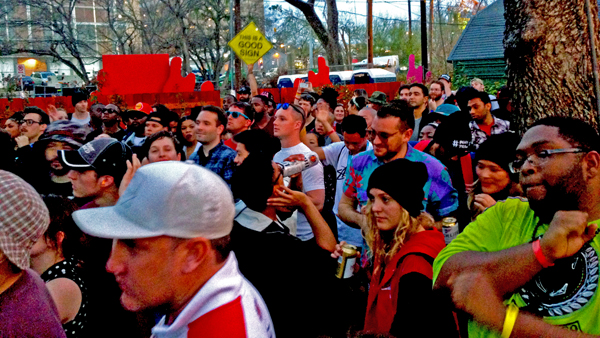 "This show has been packed all day. What's been going on?"
"Are you kidding? Have you heard of a DJ from LA called, Skrillex?
"SKRILLEX is on our stage?!?"
I had gotten in just in time to see Skrillex end his set with Toto's "Africa" to a jam-packed group of lucky SXSW music attendees. This party had been so exclusive that I not only couldn't get in, but I didn't even know that the biggest dubstep DJ in the world was performing on the stage.
I left The Complex Complex in a daze, barely able to comprehend what had just happened. I had just seen a 6 time Grammy winning  DJ who re-invented the genre of dubstep play an exclusive set on our stage to less than 300 people in a tiny backyard. I didn't even know Skrillex was in Austin!?
I decided to stumble back to Butler Park. The streets were now filled with a sea of people. Riding the momentum of the crowd and often unable to see street signs or other familiar landmarks,  I was a sea turtle returning to the same moon lit beach from where it had once hatched. The darkness of night had now completely wrapped around the Main Stage giving it a more menacing appearance than I recalled from earlier that day.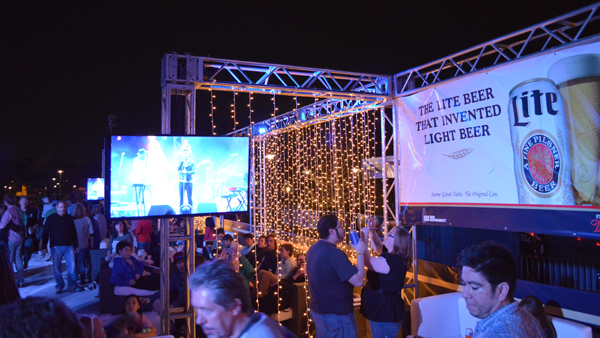 The Miller Lite Lounge was a buzzing hive of activity. People were gathered around in circles sharing the days adventures like bees sharing the location of local wildflowers.  I located a quiet and comfortable spot to roost, recharge my phone and enjoyed the final show on the SXSW music Main Stage.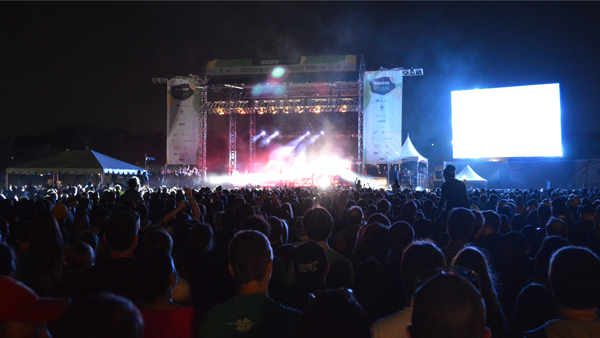 Relaxing with my feet up and a cold Miller Lite, I can't believe I actually thought I had outgrown the festival. South by Southwest is not Texas' version of Coachella or Bonnaroo. It's a completely different animal. With over 2,000 "official" shows and an untold number of spontaneous pop ups blooming from every square inch of downtown Austin, SXSW is uncategorizable. It is simply a force of nature that refuses to be contained. Don't attempt to structure an itinerary. You won't make it 200 yards before you get completely hypnotized by performances of unknown name and origin. So, dive in; head first. And if you can find an area that doesn't already have a concert stage on it, give us a call. It's moments of clarity like this that make working for In Depth Events so rewarding.
I hope this blog has been informative for our event planner clients! For more information on In Depth Events and our event production capabilities, please Ask Us a Question today. We look forward to hearing from you and working with you on your event!