At In Depth Events, we've built hundreds of rooftops for outdoor events.  Whether your event is using a load bearing stage and roof system or a non load bearing stage and roof system (also called a genie roof, or a shade roof), the basic rules that apply to safety and successful use are the same.  Below, we'll go over the most important guidelines for a successful show!
Pre-planning with your production vendor
Vital to the process of setting up a successful event is pre-planning.  In most cases, the stage and roof systems are central to the event, so it's important to get an overhead site plan in place early in the game.  Begin by placing the stage and roof in a central location, pointing away from any close residential areas.  Then, you can sketch in vendor booths, points of entry and exit for audience and placement of vendor booths and port-o-potties.  Once you have a working diagram, check for crowd flow.
It's better to have your stage and roof systems on high ground for a variety of reasons.  It's better acoustically, because it allows the PA to throw farther.  It's helpful for visibility as well.  Most importantly, if it rains, then the performance area doesn't get flooded out.
All stage and roof systems need to be guyed down.  In some cases, we'll use ground stakes to guy a rooftop down.  However, if the rooftop is to be placed on concrete, or in a grassy area where power, gas, or sewer lines are underground, we'll use water ballast.  It's important to know which type of points we'll be using long before our trucks arrive.
On site with your production crew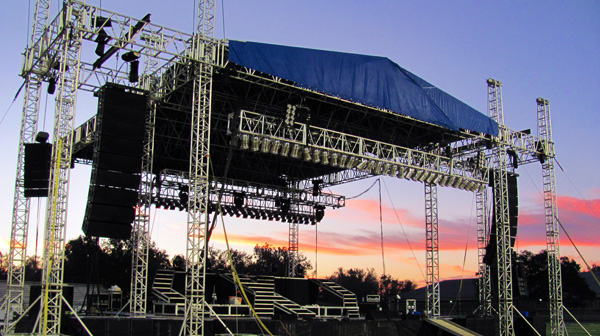 All production companies want you to have a successful event.  However, we need your help to make this happen!  First and foremost, make sure you or a senior member of your staff is on site at the pre-arranged load in time to show the crew exactly where the rooftop is going to be placed.  Have a printed version of your overhead and a printed version of the schedule of events ready for the production crew chief.  This simple step will solve the majority of timing and placement issues.
The production crew chief will need to be able to access a senior member of your event staff at all times during the event.  If you are using radios, make sure he has one assigned to him and knows where to charge it up during off times.  If you are using cell phones, make sure to swap numbers and check them.  Communication is key!
Finally, please provide the basic necessities for your crew.  Many times, a crew will show up to begin the build two days before the event starts.  If the porta-potties are not scheduled until the day before the event, things can get messy.  Also, please make arrangements for water and ice to be available to your stagehands as they build your rooftop, during the run of show and for strike.  (The occasional pizza delivery doesn't hurt, either!)
Promotional banners and soft goods
It's common for banners to be used for both load bearing and non load bearing rooftops.  Each rooftop has different sizes available for banner hangs, so make sure and check with your event professional to see what these sizes can be – and let them know you are planning on hanging banners on our structures.  We're happy to hang these banners for you, but please be aware of these guidelines:
All banners MUST BE made of blow through material.  Flat vinyl banners will not be hung.  Smilies are not acceptable.
All banners must be grommeted on all four sides.  Grommets must be placed on 18″ centers.
Our crew chief or rooftop supervisor has the final authority on any banners hung on our structures.
All banner art should be above center.  The most common banner placements are teaser banners (above the stage, on the downstage truss), backdrops and flybay banners.
Safety, Safety, Safety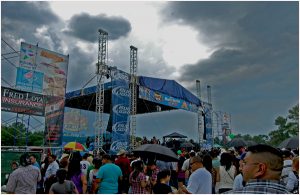 At In Depth Events, we are rabid about the safety of your talent and your attendees.  We make every effort to make sure our structures are safe, and we will always have a rooftop operator on site to make sure that all components are functioning properly.  In fact, in many cases, we'll use portable weather stations mounted to the rooftop itself to monitor weather events in real time.
Your on-site operator will always be watching for one of four occurrences that will cause us to bring the rooftop down.
#1: Heavy rain.  Drizzle and small storms don't affect us.  A raging downpour does.  If you see frogs coming from the sky and small rivers forming, we will bring the rooftop down.
#2: High winds.  Our roof systems are rated for moderate winds, but high winds will cause us to bring the roof down.  If you see Dorothy and Toto, it's time for the roof to be lowered.
#3: Lighting in the area.  Lighting strikes within a few miles of our rooftops are bad news.  A metal structure higher than anything else around it is a natural conductor.  Unless you want your hamburger well done, we're dropping the roof.
#4: Someone runs a car into one of our uprights.  Yes, this really has happened before.  If someone driving on your show site manages to hit the large aluminum structure in the middle of the event area, he's probably hit it hard enough to impair the structural integrity.  The roof needs to come down and be checked.
In most cases, we can re-raise the roof and continue with the show once the danger has passed.  However, the rooftop operator has sole authority on lowering the roof and on re-raising it.  If your rooftop operator tells you it's time to bring the rooftop down, there is a good reason for doing so.
Hopefully this blog has been informative for our event planner clients! For more information on In Depth Events and our event production capabilities, please Ask Us a Question today. We look forward to hearing from you and working with you on your event!