There are plenty of blog posts you can find that will talk about china selection at a small, private, home-based Holiday gathering.  You'll find page after page talking about how to make your own centerpieces.  I'm sure there are entire databases dedicated to the perfect napkin ring complement to your curtains and how they match your Holiday scarf.  This is NOT that type of blog.
We are NOT talking about Holiday Decor here – we need Concert Production Services!
Large, ambitious Holiday events with thousands of attendees need live holiday concert event production services and rentals to get the party off the ground.  Maybe you are a casino doing a Neon New Years event, or possibly a municipality having a Christmas Tree lighting festival.  You could be organizing a Holiday themed 5K run, a corporate Christmas Party or a college Holiday party. Whatever your Holiday responsibilities, you are going to have to find a vendor to provide staging rentals, professional audio rentals and concert lighting rentals – quick!  Depending on the party, you might also need Christmas lighting rentals, special effects such as confetti or lasers or even an LED Dance Floor!  Whether you have a 20 piece swing band, a rock and roll cover act, or just a DJ – you need to make sure that all your production needs are covered for your event by choosing the best live event production rentals vendor possible.
Each Holiday event is unique, but the steps in vendor selection are largely the same for all these types of events.  First rule – take the time to research and select the right holiday concert event production vendors!  Finding your choice vendors will make you the Holiday hero.  The wrong vendors can turn your event into a real Nightmare before Christmas.  Never fear!  We're here to give you a few pointers to find the perfect vendors for production rentals for your Holiday event – and along the way, maybe a few pointers for your other vendor needs as well.
Selecting a Holiday concert event production vendor for large scale events
Step One – Recognize you are in a different league.  The simple fact of the matter is that once you get past the 1,000 attendee mark, the whole game changes.  At 5,000 people, it changes again, and at 10,000 people, it's a REAL party!  You need to have professional audio and lighting services that fit your crowd size, and your expected number of attendees.  Many times, this will necessitate bringing in additional power to handle the needs of the equipment, especially in outdoor environments.  In some venues, it may be advantageous to 'rig' equipment; that is, hang it from ceiling supports to increase the look and feel of the space and the equipment.
The successful concert production services vendor will have experience in producing events relative to the amount of attendees you are expecting.  If rigging is an option, choose a production vendor with rigging experience.  Understand the venue you have selected may require insurance information from the concert production vendor – this is something a reputable vendor will be happy to provide.  Likewise, a reputable concert production vendor will be happy to supply the power needs and requirements they have for their own equipment.
Step Two – Go with your instincts!  Did the vendor listen to your needs on the phone?  Did they ask questions and pay attention to your responses?  Did they offer to do a site survey?  Did they offer to provide you pictures of past events?  In many cases, you want (and NEED!) a vendor who you are comfortable with.  You're not hiring a plumber here!
A good relationship between you and your vendor is key.  Meet the potential vendor on site and perform a site survey with them.  Asking for both customer AND vendor references is perfectly OK – in fact, a reputable vendor will welcome your request.  A reputable vendor will be happy to provide photos of recent events.  You should always take the time to check references with any vendor, but especially when choosing a concert production vendor.  Obviously, avoid vendors who are condescending or rude.

Step Three – Ask your concert production services vendor for design advice.  This is an often overlooked step that can really help you select the best concert production vendor possible.  During the site survey, ask the vendor what other services they may be able to provide that will bring your party to the next level.  A good vendor will be happy to brainstorm with you on design ideas.  After all, they do hundreds of events per year – they might just have some ideas that will be great for your event!
A good holiday concert event production vendor can help with design.  The best production services vendor will be evaluating the venue during the site survey for potential roadblocks as well as design ideas.  Look for concert production vendors that are knowledgeable with fire codes and building codes. The best way to do this is to ask if they are Certified Building Contractors with any municipalities.  Your vendor should be also able to help you with ideas for crowd movement and making sure your attendees are safe during your event.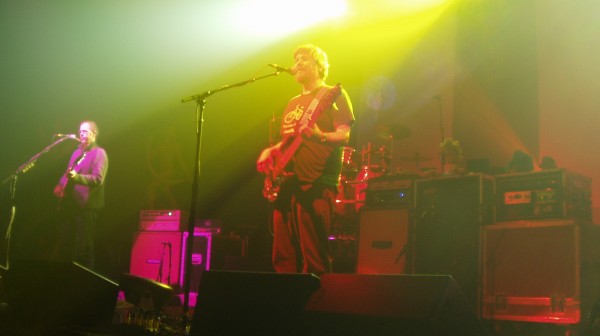 The Shameless Sales Pitch
The staff at In Depth Events has provided holiday concert event production services and rentals for hundreds of large scale Holiday events – from huge corporate Christmas parties, to Neon New Years events for casinos, and everything in between.  In our regular season, we've provided live event rentals for thousands of events of all shapes and sizes.  We've also got some great production services that are ready for your guests, including the largest LED Dance Floor in the nation, as well as being one of the most experienced Glow Party Experts in the world.  Our clients rely on our production experience – shouldn't you?  Make sure and Ask Us a Question to see how we can help with your next Holiday event.  We look forward to hearing from you and working with you!