LED Dance Floors are an amazing centerpiece for all types of events. Corporate parties, wedding receptions, college events and fashion events have all rented our LED Dance Floors to highlight their events.   A rental LED Dance Floor can also be used as the centerpiece for a theme party such as a 70's or 80's party, a disco party or even at one of our famous glow parties.  
Whether you call them LED Dance Floors, lit dance floors or disco dance floors, the end result is the same – a dynamic display of colors that makes the dance floor – and your attendees – come alive!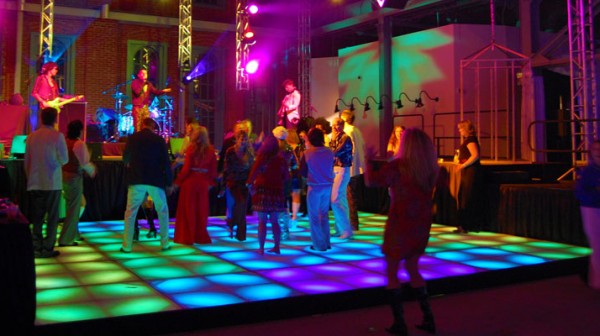 What types of LED Dance Floors are available in the event rental market today?
The staff at In Depth Events helped pioneer the Rental LED Dance Floor market.  We've been building LED disco dance floors since 2007!  A lot has changed, but the basics are still the same.  Here're the three types of rental LED Dance Floors available in the rental market:  
Acrylic topped LED Dance Floor.  These are by far the most common LED Dance Floors available in the US today. And we own the largest number of rental panels in the United States! Our LED Dance Floors are made with 4 foot x 4 foot panels and we sandblast the tops for slip resistance and light diffusion.  These floors have over a million color combinations, can be installed either indoors or outdoors and are DMX programmable.  By using DMX lighting protocols, you can program the floor to work with other wash or intelligent lighting in the room.
LED Interactive Dance Floor.  These floors are based on a very low resolution video screen.  They are pressure sensitive, so when you step on the floor, it reacts by running pre-programmed video effects.  These floors are a lot of fun, and are typically used for dance contests, fashion runways or other uses when there will be limited people on the floor.  There are two reasons for this – the first is that a large number on the people on the floor will confuse the computer running the video loops.  The second is that lots of people on the floor keeps you from being able to see the video effects.  
LED Video Dance Floor.  These are the floors you see at large concerts and sporting events.   Most of the floors available on the rental market are medium resolution.  They are very expensive to rent and transport, as they tend to be very heavy.  LED Video Dance Floors, however, make an amazing statement.  They are typically built with 1 square meter panels (approximately three feet wide x three feet tall) and can be built to practically any size desired.  They require a media server to run video on the floor.  These types of rental LED Video Dance Floors are used almost exclusively for corporate parties.  Remember – once you fill the dance floor, it's difficult to see what is being played on the video!

What should I look for in a vendor?
As with any vendor, first impressions are key.  Are you comfortable during the initial phone conversation?  Did the person on the phone take time to listen to details about your specific event?  Did they seem knowledgeable about the services they are offering?  A reputable company will have staff that knows the service and will be willing to take time to talk to you about your specific and unique event.
Ask for pictures of previous events.  Ask for references.  A reputable company will be happy to provide images as well as client AND vendor references.
While vendor selection is key, even the best vendors need specific information from you, the client.  Be ready to provide information on your event space and pictures if possible.  Accurate load in, load out and event times keep everyone on schedule.  Be clear about dress codes.  If you are having a black tie event, we need to know, so your operator can dress appropriately.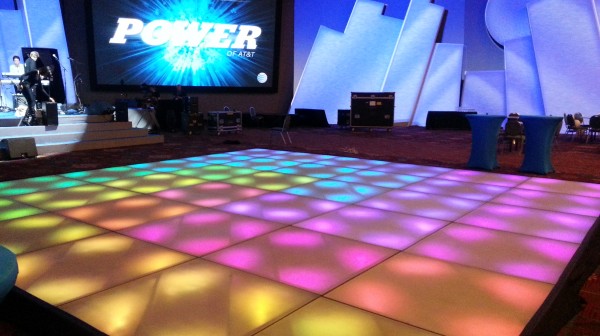 The Shameless Sales Pitch
We hope you've found this article to be informative!  If you are considering a rental LED Dance Floor for your event, then make sure to Ask a Question  of the experts at In Depth Events.  We've got the largest, safest and brightest LED Dance Floor in the business and we routinely do events all over the United States.  We look forward to hearing from you and working with you!