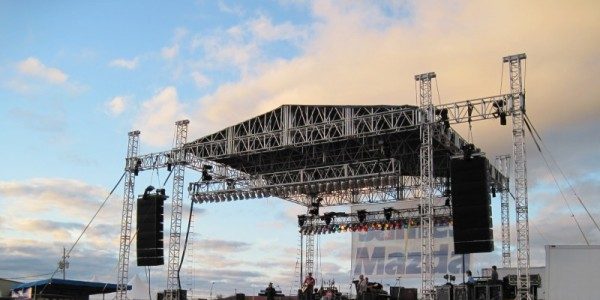 Contrary to popular belief, not everyone is an audio engineer. However, you wouldn't think so if you've ever attended a live event with bad audio. As the audience is leaving (usually before the event has ended) the common sentence heard from the audience is typically a version of "Wow, that sounded really bad!" Sometimes, the word used is a little more vulgar and rhymes with 'fit' – you know which one I mean!
Choosing the right sound system rental is a vital part of the process of doing live events. The audio at your event needs to be clear with full range of lows to highs accurately broadcast. Notice that I didn't say 'loud', because loud isn't necessarily good sound! As a live event producer, marketing firm or even the 'man on the street' – live audio needs to sound good to get the message across. Hopefully, this article will allow you to walk away with a little more information on selecting the proper sound system rental for your specific type of event.
In this article, we'll begin with the basics and talk about loudspeakers. Loudspeakers can be grouped into two major categories for live events: Conventional Loudspeakers and Line Array.
Conventional Speakers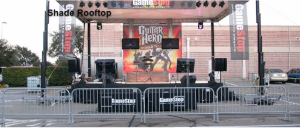 Conventional speakers (also known as point source boxes for the technically astute) are based on the same designs and components that became popular with the advent of the telephone and gramophone. You've seen these types of speakers ever since you were a kid and they are typically used for everything from high school choir performances to smaller concerts. Some people consider them a cheaper alternative to Line Array, but they are not the poor cousin. Conventional speakers have several advantages over Line Array, including the ability to cover a more diverse type of venue, better volume control in smaller areas and a much more natural sound at lower volume levels.
Line Array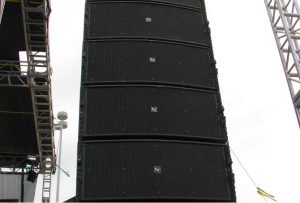 Line Array, while still using similar components as conventional speakers, are a different breed of loudspeakers. Introduced in the mid-90's, Line Array uses constructive interference to throw sound farther than is possible with conventional loudspeakers. Typically, a Line Array is flown; hung from the ceiling of a venue or from a load bearing structure, as pictured. Line Array is also normally louder than conventional speakers. As a result, it's used for large concerts in both indoor and outdoor venues. However, it's not a solution for every show – it's limitations in directivity and the very nature of its long throw characteristics make it a poor choice for intimate venues, certain types of outdoor events and events where flying PA is impractical.
Technological advances in loudspeaker and amplification technology has made both types of loudspeakers viable options for your sound system rental depending on the type of venue and event you are planning.
Hopefully this blog has been informative for our event planner clients! For more information on In Depth Events and our event production capabilities, please Ask Us a Question today. We look forward to hearing from you and working with you on your event!