Anyone who follows college football knows about the NCAA's decision to create a national college football playoff. That first playoff happened at AT&T Stadium, in Arlington, TX in 2015.  In this historic event, Ohio State defeated Oregon in the inaugural College Football Playoff National Championship.
There were more players at this event than the ones on the field, however.  The ETZEL Agency was in full force, one of the most recognized sports marketing firms in the world.  The City of Arlington staff were everywhere making sure that attendees were safe and having a good time.  And, of course, our staff were there providing sporting event production services for the very first NCAA Championship Tailgate Party!
For this show, our staff provided a list of live sporting event production services. Attendees at both entrances were first greeted by our three-dimensional gateway towers, complete with lighting and custom signage. The Postano social media tower was a three-sided video wall that projected sponsor and event information. Our staff custom designed a 20 foot tall ballast and vertical truss structure for signage in twelve locations over the entire site. Our staff also provided a laundry list of staging and scaffolding structures, including a stage thrust, camera platforms and spot platforms for the main stage performance area.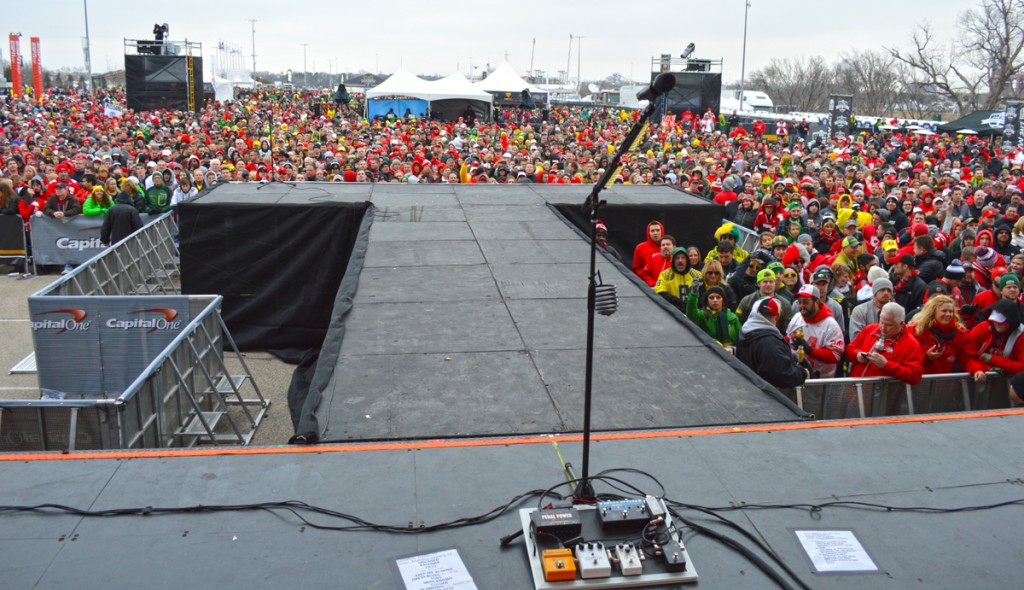 As always, our first priority is safety. When the City of Arlington required each vendor to have individual permits for every structure, the staff promptly provided the engineer drawings needed. As a Certified Building Contractor with the City of Arlington, we were able to get the permits and inspections taken care of before most of the other vendors. And In Depth Events was the first vendor to receive green tags on inspection day!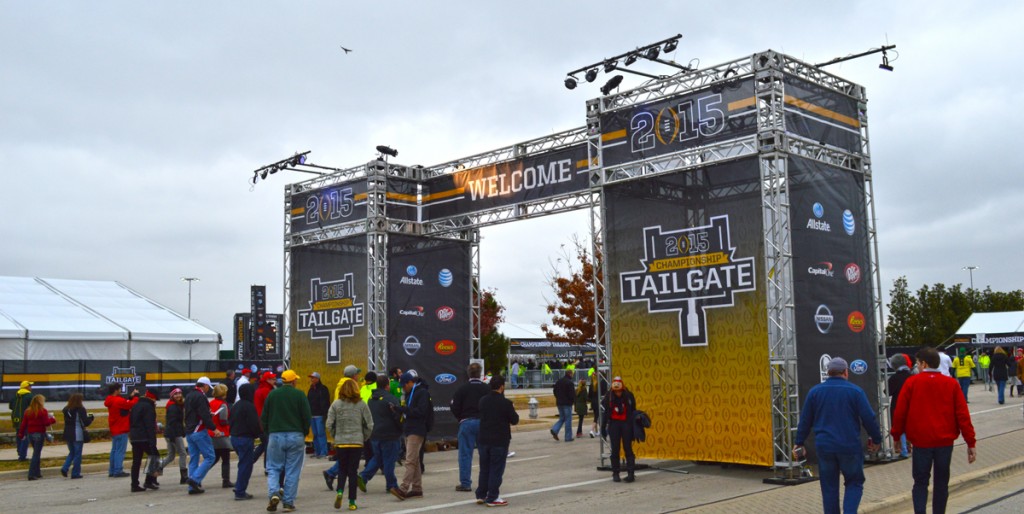 The day of the event was overcast and cold. But that didn't stop the fans from attending the inaugural Championship Tailgate party and, of course, the game itself! we were proud to be a part of NCAA history and we look forward to working with our new friends and colleagues at ETZEL in the future.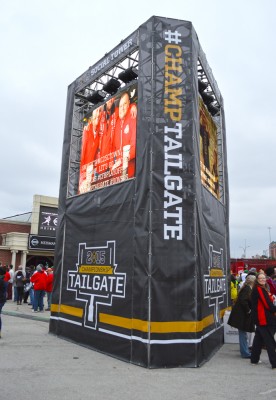 The staff at In Depth Events has a long history of providing live sporting event production services for sports marketing firms like ETZEL. You can see our page devoted to sports marketing firms here. If you are interested in finding out how In Depth Events can provide production services for your sports marketing firm, then Ask a Question of our sports marketing events experts. We look forward to hearing from you and working with you!