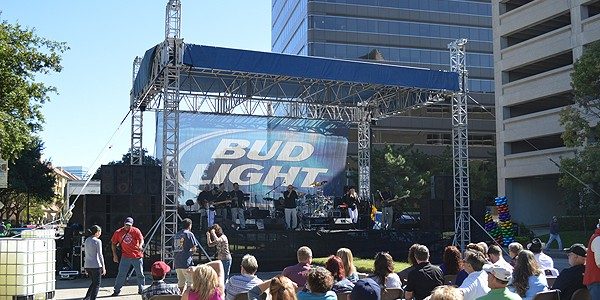 If you're throwing outdoor festivals, then choosing the right production vendor is the single biggest decision you'll make towards the success of your event.  Take a look below to see a few tips on finding the right production vendor for staging rental, audio rental, and lighting rental for your outdoor festival!
Step One: Start early and plan ahead when choosing a production company
Whether it's a college block party, a 'City Of', or a State Fair, having the right company for your stage and roof system, audio rental, lighting rental and generator rental can make or break outdoor festivals.  Most importantly, you need someone that you can build a relationship with – someone that you trust will do what they say they are going to do.
Building a relationship takes time.  Begin looking for your vendors well in advance of your show.  Have your details in place when you are interviewing vendors – overhead layouts of your venue, band riders and event dates and times are key to helping your production company provide an accurate quote for your event.  In addition, most production companies like to see at least a three month advance contact before the date of your show and never less than one month.  Frantically calling production vendors a week before the event date is not a way to build trust!
Interview the production company, get multiple bids and check references

Outdoor festivals are arguably the most difficult type of event there is for a production company.  Tight set changes, multiple bands and crowd control issues are compounded by weather, temporary power and permitting requirements.  Your production company for your outdoor festival should be part of the solution, not an additional headache that you have to deal with.
Therefore, you need to make sure they companies your are interviewing know what they are talking about!  Conduct interviews with sales staff and project leads – a reputable company will be thrilled with the opportunity to meet with you and see the venue.  Be prepared to get multiple bids and check them for the gear you need.  Your production company should be open to discussion on the bid and the equipment listed in your quote.
Finally, check references!  The production company should own the majority of the equipment they are bringing to your show.  Avoid 'show brokers' – they typically cause more trouble than they are worth and their references will reflect this.  Ask about their safety records.  Don't hesitate to ask all companies bidding on your event about the reputations of their competitors.  Production is a very small industry, and we've all worked together at one time or the other.  A company that is reviled across the industry is bad news.
Hopefully this blog has been informative for our event planner clients! For more information on In Depth Events and our event production capabilities, please Ask Us a Question today. We look forward to hearing from you and working with you on your event!