"It's like walking on water.."
A clear acrylic pool cover is one of the most stunning visual experiences you can have at an outdoor event.  A clear pool gives your guests the illusion that they are literally walking on water.  Like most structures that portray glace and elegance, a significant amount of design work with professional staff is necessary for preparation and installation.  At In Depth Events, we are one of the best companies in the United States to provide your clear acrylic swimming pool cover.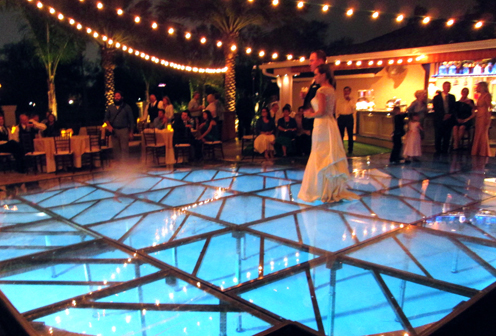 How we build clear pool covers
A clear acrylic pool cover is a special structure that requires careful planning and installation to be a successful part of your event.  First, we do a site survey to get the necessary measurements for our designers, and to check the venue or residence for easiest way to load in and load out.  We take the measurements back to our drawing board, and create a CAD drawing that exactly matches the pool and the planned cover.
Our pool covers are built on a steel 4'x4' frame, with steel legs and cross braces that actually are built in the water.  We use rubber feet on our legs to make sure not to damage the bottom or edges of the pool.  Then we place sheets of brand new ¾" clear acrylic in the frames.  Some of our clients require a partial cover, and in that case, we use safety rails to make sure there are no sides of the pool cover accessible to open water.  All step ups, safety rail, or handrail are built to ADA compliance.
When our technicians have completed the installation of the swimming pool cover, the result is a truly stunning structure that allows your guests to see down into the pool to the bottom.  Our clients use our pool covers for one-of-a-kind dance floors, additional attendee space, and in some cases, an amazing lounge area with rental tables, chairs, highboys, and even couches and love seats.
Our designers work directly with you to provide the clear acrylic pool cover of your dreams.  We can also provide partial or multi-level pool covers.  Looking for even more customization?  Ask us about using checkerboard patterns, custom lighting, or our flush-mount pool covers!
Using a professional contractor for your acrylic pool cover
Using a professional, insured contractor for your pool cover cannot be understated.  At In Depth Events, we take pride in the work we've done in residential and commercial pools.  It's our job to make sure we provide something beautiful for your special event – without leaving behind a mess for someone else to clean up!
Our owners work side by side with our staff and have taught them how to implement the principles of timeliness, professionalism, and attention to detail in every event we do. We would love for you to allow us to show you the potential your pool has. Your event is as important to us as it is to you.
For more information about our services or to get a quote please visit our contact page. We look forward to hearing from you and working with you!