Our least expensive option
Black Utility Swimming Pool Covers are a great way to create a safe surface over your pool for an event. These types of pool covers can be used for low visibility areas, such as a band stage, food services, or seating. However, they can also be used as a base structure for carpeting, wood dance floors, or wood flooring. The Black Utility Swimming Pool Cover is our least expensive option out of the four types of covers we provide.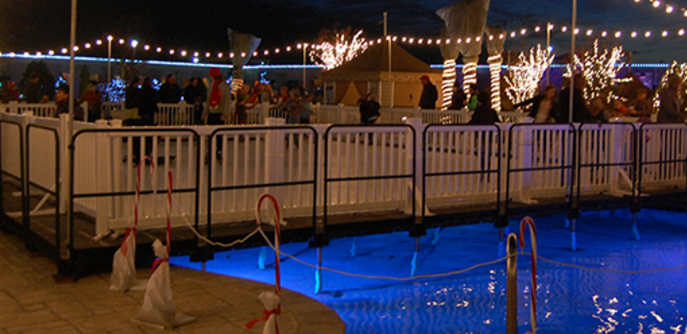 Event ideas with our black utility swimming pool covers
Our black utility swimming pool covers are typically used in one of two ways – as a low-cost option to expand event area, or, as a base structure to incorporate custom event elements.
Expanding event area – Many times, people will use our pool cover to provide additional event space. This can be for a wedding reception in a private residence, where the pool takes up a lot of backyard space, or it can be on a hotel pool deck, where the amount of attendees will exceed the normal event space capabilities. In these cases, black is used since the floor isn't a highlight part of the event. Providing a stage for a band over water, providing banquet round seating, or an area where food service is going to be working is a perfect example of this type of cover.
Using black utility pool covers as a base for additional event elements – sometimes our pool covers are used as a base structure for other types of event services. For instance, someone may put a parquet dance floor on the pool cover. A casino may use the space for an ice rink. We've quoted these as a putting green, complete with cups, hazards and AstroTurf. Using our pool covers as a base allows you to really come up with exciting event elements, without sacrificing space or safety.
How are Black Utility Swimming Pool Covers built?
Black Utility Swimming Pool Covers are built over your existing pool, maximizing the space you have to entertain your guests. This option of pool cover is made out of our plywood top staging sections that are painted black. This does not allow any visibility of the pool below. This pool cover, like all our covers, does require in-water installation.
Black Utility Swimming Pool Covers are made from 4x4 Bil-Jax staging. These staging panels are made of a 4'x4' steel frame with a plywood inset, painted black. The staging is supported by steel legs that are adjusted to the needed height, and placed in the water at 4' centers. Each leg has a rubber foot to keep from damaging the pool edges and bottom. Once the staging and legs have been constructed, we add steel cross braces for lateral support.
With all our pool covers, we offer a free site survey and CAD drawing to make sure you can visualize your pool cover before it's installed.