When only the coolest and best will do
Flush-Mount swimming pool covers provide an extended area to entertain your guests by creating a surface that covers your pool, but without the step up that a normal pool cover would have.  These pool covers are great for groups with larger crowds, have elders, young children or even women in heels.  A flush mount pool cover can be built with any of the surface types we have in stock, including our black utility, our frosted acrylic, or our clear acrylic.  Or, we can custom design a surface that is perfect for your corporate event, wedding reception, or private party.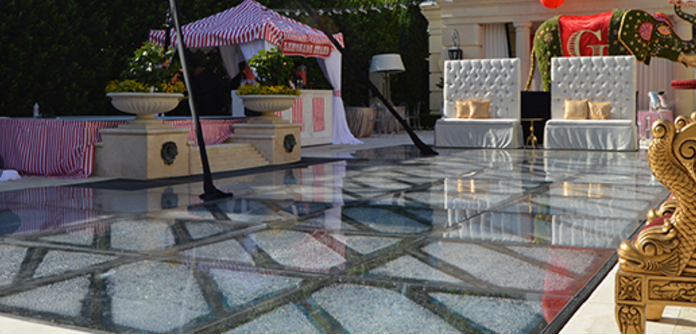 How are Flush-Mount Swimming Pool Covers built?
A flush mount pool cover is a custom solution for your pool that is made by welding our steel frames to meet the specific inner dimensions of your pool. Flush mount pool covers can be built using any of the listed types of pool covers we provide (black utility, clear acrylic, and frosted acrylic). These custom pool cover pieces are built to fit perfectly flush with the edge of your pool by our in-house metal and wood shops.
Flush-Mount Swimming Pool Covers are first designed by getting the exact measurements of your pool. Once the measurements are taken and a surface material type is chosen, we provide a CAD drawing that shows the exact dimensions and pieces needed to create a custom cover for your pool.  From there, our skilled technicians weld custom steel legs and frames to fit perfectly to the edge of your pool.  Our installers can work anywhere in the country to provide the installation needed for your special event.  Our clients use our pool covers for additional seating, lounge areas, and unique dance floors.
Having a pool cover that is flush with the surrounding concrete makes for an incredibly safe, elegant solution for your hotel, casino, or private residence.   We are often asked to provide our pool covers at events where there is a lot of foot traffic, children, or seniors.  Indoors or outdoors, our pool covers have been used to provide additional event space at a variety of events and venues.
Selecting the best pool cover vendor
With more than 25 year of experience in this industry, our owners have created a company that implements the principles of professionalism, timeliness, and passion in every event. By working side by side with their staff, they have created a wonderful group that cares just as much about your event as you do.
Finding a vendor that can provide a custom pool cover that follows our exacting standards is difficult.  We build our pool covers in-house, which means our work standards are exceptionally high.  The pool covers we create are made to withstand weights of up to 160 pounds per square foot, and we continually work with structural engineers and building staff to make sure our pool covers are safe - as well as being an exciting addition to your event.
For more information about our services or to get a quote please visit our contact page. We look forward to hearing from you and working with you!