Like most event management and concert production firms, July 4 is one of the busiest weekends of the year. We had several clients, but two of them really stand out for two very different reasons. Please enjoy our recap, and feel to ask questions in the comments!
City of Celina – Social media and event management for municipalities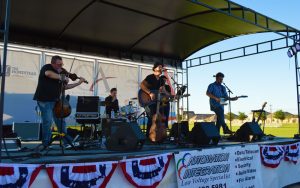 The City of Celina is one of the fastest growing municipalities in the State of Texas. The demographic mainly consists of upwardly-mobile young parents with small children. City government is growing as fast as the City itself is – which leaves very little time for planning events. However, city events generate a feeling of community and civic pride, and are a true necessity for growing areas. How does city staff balance their time in promoting events vs other municipal responsibilities?
In Depth Events was able to provide an In Depth solution for the City of Celina's Splash and Blast event. This patriotic event features live music, fireworks, waterslides, and plenty of food and crafts vendors. We were able to help city staff by handling all social media promotion (including video promotions), sponsorship procurement, and other event management services, such as banner creation, poster creation and placement, and day-of-show sponsor and volunteer support.
Our efforts helped to increase event sponsorship by over three times the amount they had in 2016. Furthermore, the event sponsors were pleasantly surprised with nearly five times the amount of attendees from previous years. Our pre-event social media promotion, combined with monitoring and responding to questions during the event on social media platforms, really paid off for the City of Celina.
Austin Symphony – location-specific concert production services in Austin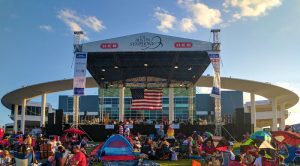 The co-founders of In Depth Events have been working with the Austin Symphony for years, providing the perfect stage and rooftop system for the official Fourth of July event for the City of Austin. Unlike most events in Austin, which are designed to bring tourists in – this event is specific to Austin citizens, and Austin people are serious about their music. So how does an event management company handle a concert event for one the most discerning audiences in the world?
With integrity and professionalism. The lawn at the Long Center is one of the most challenging setups we do. It starts with a 15-degree grade to setup our 40'x40' load bearing stage and rooftop system. This makes usually mundane task like leveling a stage (or driving a forklift) much more difficult. Combined with 100-degree temperatures and an 80 pieces symphony orchestra on stage, this show is challenging to say the least.
Once again, the staff of In Depth Events knocked it out of the park. In addition to building the perfect stage and rooftop for the occasion, we were also able to add a touch of our event management services by designing a custom banner for the rooftop structure. This small addition made a huge difference in the look and feel of the stage, and promoted HEB (the title sponsor) in a far more attractive and visible way than before.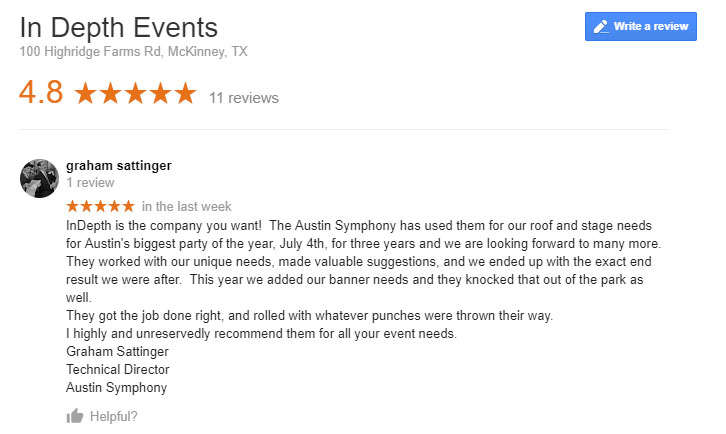 We hope you've enjoyed this recap. Please feel free to ask us any questions about these events in the comments – and please contact us for your future event needs. We look forward to hearing from you, and working with you!