Custom structures at your indoor or outdoor activation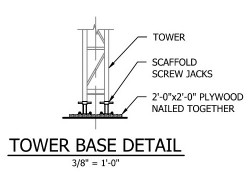 If you are an event marketing professional, then you have probably used a production company to build a custom structure for your client at an activation or trade show.  Custom structures built from truss or staging can be used as elevated seating for attendees or VIP's, gateway arches or signage towers.  These structures can be huge show elements, massive custom stages or as small as a single piece of trussing.  However, they all have one thing in common – they are subject to inspection by a city official and will need engineer certified drawings for events of this kind.
In an indoor activation, the person from the city is typically the Fire Marshall or a member of his or her staff.  In an outdoor activation, it will typically be a city building inspector.  However, this is not an absolute – either one can show up at either event type.  Both have the power to write very expensive compliance tickets to your end client, hold the doors closed until you comply with city regulations, or in extreme cases, close your event and escort all attendees out of the event space.
So what is an engineer certified drawing?
With any custom structure, the city can require an engineer certified drawings for events.  This is a CAD drawing of the structure to be built with detailed instructions on how it is to be flown (in indoor environments), ground supported (for both indoor and outdoor shows) and ballasted (for outdoor events).
These engineer certified drawings for events may incorporate elements of the venue for flown rigs and will definitely incorporate tolerances for wind speed, ballast weight and banner types for outdoor structures.  These drawings are created by a engineer who is certified to do business in the State you are working in.  When the drawing is complete, the engineer will apply a stamp to the drawing which signifies the structure is safe to be built.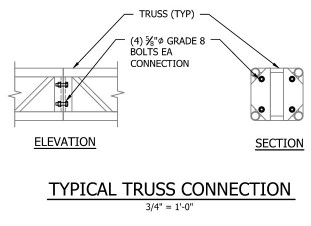 It's vitally important that the engineer and production company work together in the creation of the original drawings, as well as the execution of the structure build.  If the structure is not built to the specifications the engineer has outlined, the city inspector can fail you (also called a 'red tag') and require changes to be made before a second inspection is carried out.  If the build is correct, you get a green tag and a sign off by the city to have your event.
Here's a list on how most permitting is done in US cities:
The client or show designer has the initial idea.
A production company is contacted and they take the idea and turn it into a rendering or quote for client review.
On review, the production company contacts an engineer licensed in the State.  The engineer reviews the drawings or specifications from the production company, then creates his own set of drawings showing ballasts, accepted tolerances and detailed installation instructions.
Once drawings are complete, a permit request is filed with the city with the drawings attached.  Some cities will require an event permit to be filed first.  Occasionally, a permit will not be required, but a review of the drawings will be required.
The structure is built on site and the city makes an appointment to review.  Hopefully, the structure is passed, or green tagged.  If it fails the review, you will have to request a second time slot for a re-review.  Typically, a city official can only fail a structure if it is not built to the specifications that are in the drawings.
The event happens and exceeds your clients wildest dreams.  You are so impressed with the production team that you take all members of the production company on a week long, all expenses paid vacation to Hawaii.
It's always a good idea to have an engineer certified with the State to be on site when the city inspector or fire marshal is scheduled – even if the engineer was not the one who created the original drawings.  Any certified engineer licensed to practice in the State you are working in can provide a stamped 'letter of compliance'. This is basically a letter stating the production company has built the structure to the drawings supplied in the permitting process.
Wow – this is some great information. And you are an incredibly talented writer. Any other advice?
Well, since you asked – certainly!
Dealing with city officials can be incredibly frustrating.  It's important to remember that their job is ultimately to make sure your attendees are safe.  Fire Marshals can be downright obstinate about exits being blocked, but there is a good historical reason for concern.  A city inspector can (and will) hold the doors closed to your event until your production company reads the plans correctly and installs the right amount of ballast to a gateway.  The majority of them are not trying to make your life difficult – they simply have a job to do. And frankly, it's a job you really want them to do to the best of their abilities.
With that in mind, treat city employees with respect and they will do the same.   Be positive, polite and factual.  (This works well for police officers, DMV employees and social security employees as well.)  If you don't know the answer to a question, find the production company.  If they don't know, call the engineer who put the drawings together.  Answering a city inspector with "I don't know" will not work well.  Select one knowledgeable person to meet with the inspector, not a group of people who don't know anything about the build.  Your clients are the absolute wrong person to meet with a city inspector.  If you step back and allow the production company and engineers to interact with city inspectors and fire marshals, you'll be much happier (and stress-free).
We hope you've enjoyed this article.  When you are ready, take a moment and Ask Us a Question of the professionals at In Depth Events.  We have nationwide experience with building structures with engineer certified drawings for events and we've love the opportunity to show you our skills.  We look forward to hearing from you and working with you!