Keeping it fun is an essential component of enhancing any live event.  Luckily, we here at Production Experience specialize in FUN.
Throughout history, the experiential entertainment industry has come up with some truly off-the-wall production concepts and equipment that eventually led to the development of the gear we use today.  Always pushing the envelope to enhance the end experience,  how exactly did we get to where we are now?  We would like you to meet some of the GIANTS upon whose shoulders we stand on that allow us to support some of the most innovative marketing campaigns in the industry today.
*fade to old time-y black and white footage and music*
Live Event Visual Amplification is the display of live and pre-recorded images as a part of a live stage event.
Visual amplification began when films, projected onto a stage, added characters or background information to a production. 35 mm motion picture projectors became available in 1910 – but which theatre or opera company first used a movie in a stage production is not known.
In 1935, less costly 16 mm film equipment allowed many other performance groups and school theaters to use motion pictures in productions.
*cue classic rock music*
In 1970, closed circuit video cameras and video cassette machines became available and Live Event Visual Amplification came of age. For the first time, live closeups of stage performers could be displayed in real time. These systems also made it possible to show pre-recorded videos that added information & visual intensity to a live event.
One of the first video touring systems was created by video designer TJ McHose in 1975 for the rock band The Tubes using black and white television monitors.
In 1978, TJ McHose designed a touring color video system that enlarged performers at the Kool Jazz Festivals in sports stadiums across the United States.
*snap to full definition HD*
Fast forward to 2014.
In today's age of hyper connected devices and wireless communication, In Depth Events is leading the world in Live Event Visual Amplification because of our relationships with companies like, GoVISION (www.jumbo.tv).  The perfect complement to our roofed outdoor concert stage, GoVISION's LED video walls project all the action of our live stage performers to everyone in the venue regardless of size.
We love football, so when the Dallas Cowboys asked us to help them with a Live Event in their new stadium, we quickly said yes. Turns out, the Cowboys know a thing or two about LARGE LED screens and our video wall from GoVISION was a fantastic addition to a live concert and performance by the world famous Dallas Cowboy Cheerleaders. We have never been more proud.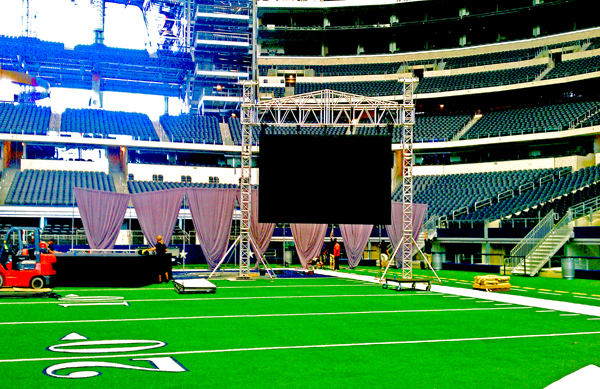 A big part of our business is working with advertising agencies and public relations departments that are interested in either introducing a new client or rebranding their existing client in a fun and creative way. While nothing beats a charismatic spokesperson, often we are asked to bring to life a corporate message with live video and sound.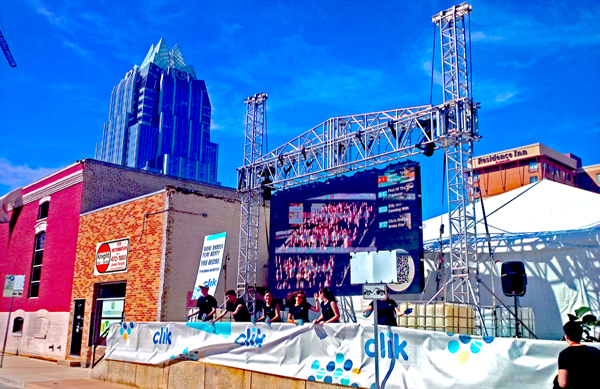 I hope you enjoyed learning a little bit about what we do at In Depth Event.  We thought this would be a FUN way for you to see how the production aspect of live events has progressed through the years.   We hope that Experiential Entertainment will continue to capture your imagination as it has ours and we dare you to dream up the next big thing.  We look forward to seeing what you want us to come up with next!
Hopefully this blog has been informative for our event planner clients! For more information on In Depth Events and our event production capabilities, please Ask Us a Question today. We look forward to hearing from you and working with you on your event!