For large scale events like sporting events, large festivals and Municipal events, signage becomes a serious issue.  If your event spans an area over several acres, how to you point people to the main stage, restrooms or the emergency services area?  No less critical is the branding of the event and the branding of your vendor areas.  At In Depth Events, we are experts at event outdoor signage using a variety of media.  Read on for more information!
Live Events – Structure and Banner Solutions from In Depth Events
At In Depth Events, we are experts at event outdoor signage solutions.  We've used structures with vinyl banners as well as structures with large scale video walls.  Our technicians and engineers work hard to make sure these structures are safe, look great and fulfill the needs that put them there in the first place – to inform your attendees about a specific direction, scheduled event or vendor message.
Here are the four types of structures that you can easily use at your next festival, sporting event, or marketing event:
Inverted "U":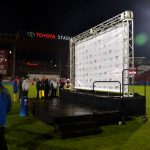 An inverted "U" is a mini-beam truss structure.  It's a great way to display a large banner such as a backdrop for a small stage or a step and repeat banner at a selfie station.  These structures are incredibly wind resistant, inexpensive and look great.
Media Towers: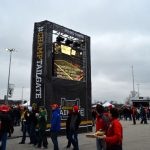 A media tower is either a triangular or square structure designed to hold large format LED Video walls.  These structures are usually about 20′ tall and very, very strong. They work well at central locations with lots of foot traffic – like outside the food court area.  The screens are used for vendor promotion, calendar/schedules of your event and live tweets.  When equipped with loudspeakers, these towers can also be used for announcements of upcoming events as well as emergency messages.
Truss and Ballast: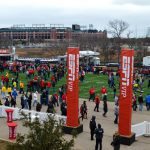 A Truss and Ballast structure is a proprietary type of signage that only In Depth Events has.  In combination with a 20-foot tall vertical piece of 24-inch x 30-inch truss is a 3600 pound ballast made of concrete and steel.  These units can be placed anywhere for very tall, very visible banners.  We also use them for outdoor light towers and as support for commercial bulb stringers.  These unique outdoor signage structures have been engineer certified to withstand well over 70 MPH winds while only using a 4-foot X 4-foot ground area.
Gateways: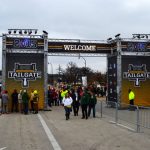 A gateway is a mini-beam structure that is engineered to allow people to pass under or through it.  They are most often used at the event entry or exit or, when attendees are passing through to a different part of the festival.   Gateways are usually lighted with signage towers on both sides.  Gateways are typically where the event name and sponsors are located, but it's also become a great location for a selfie station.
The Bonus Structure Type  – Custom Signage Towers: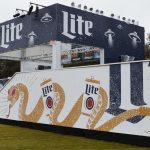 Do you see something here that inspires you to create a new idea?  Do you have an idea that is completely off the beaten path?  The experts at In Depth Events can (and have!) provided event outdoor signage using custom structures that don't look like anything else.  From truss vaults to branded outdoor seating lounges and even toboggan slides – our experts can create something completely new for your event.  Challenge Accepted!
Choosing the right vendor for live event outdoor signage structures
In Depth Events handles event outdoor signage structures for events all over the nation, so make sure to contact us first.  However, our Canadian and international event planners may have a difficult time finding a reputable vendor.  Here are a few pointers:
First and foremost – trust your gut.  Don't settle for a company that doesn't seem right for your needs.
Make sure the company you choose is capable of providing engineer certified drawings.
The company needs to be registered as a certified building contractor in at least their home city.
The company should own their own equipment, especially the trussing, tie-downs and ballasts.
Find a company that has recommendations for a signage or vinyl firm.  Having a good relationship with a signage vendor means they know what specification are needed.
Questions?  Feel free to Ask a Question of our experts.  We hope you enjoyed this blog post and make sure to check out our other Event Planner Guides while you are here.