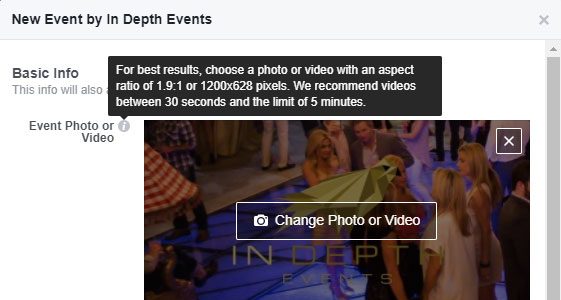 Using Facebook to Promote Events
Facebook is one of the greatest ways to promote your events. With over 490 million users that utilize the Event Pages per month, you'll definitely increase attendance of your public event by using Facebook Event Pages properly. As a frequent Facebook user I see multiple events around my area daily and have had great success utilizing Facebook Events Pages to promote past events.
How to Set-Up a Facebook Event Page
To start, I always set up an event page in such way that the cover photo or video and event title are compatible with phone screens since most people scroll Facebook on a cellular device. At the time of writing this article Facebook's Event Tips Website claims the photo must be "at least 1920 x 1080 pixels (16:9 ratio)". The information popup when creating a new event page contradicts this telling you to make it 1200 x 628 pixels for an aspect ratio of 1.9:1. In reality 1200 x 628 is closer to 1.91:1 if you want to nit pick. To make it more complicated not  all devices will display this image or video at the same resolution with some mobile devices displaying it as wide as 1250 pixels. If you want to be really safe I suggest going with the 1.91:1 aspect ratio at a minimum size of 1920 x 1005 pixels and leave room on the edges for what ever random cropping Facebook decides to do. I would avoid using text in your cover photo as it can be hard to read on smaller devices. Also, Facebook will not approve any photo that is more than 20% text.
Pro Tip
When possible use a short video for your cover instead of a photo. This is a great way to grab someone's attention.
Once I have chosen a cover photo/video and title, I set the page with the exact date, time, and address for the event I am promoting. This allows people in the surrounding area to view the event and plan to attend. When choosing the name for a public event, I try to keep it short, to the point, and attention grabbing. Finally, I add a description with exciting details and encourage people to join us at the event.
Pro Tip
When adding the description for your event use hashtags and @mentions. If your event has acts or special attendees planned, add them as Co-Hosts or Relative Groups of the event. This will showcase your event on their pages attracting another group of people.
Facebook allows you to edit your public event up to three times but, changes can greatly affect attendance of people who are interested so I try not to edit events after they are published. I always work on a draft until I am sure it is ready then publish it for Facebook users to see. You want your Event Page to look professional but also be engaging at the same time.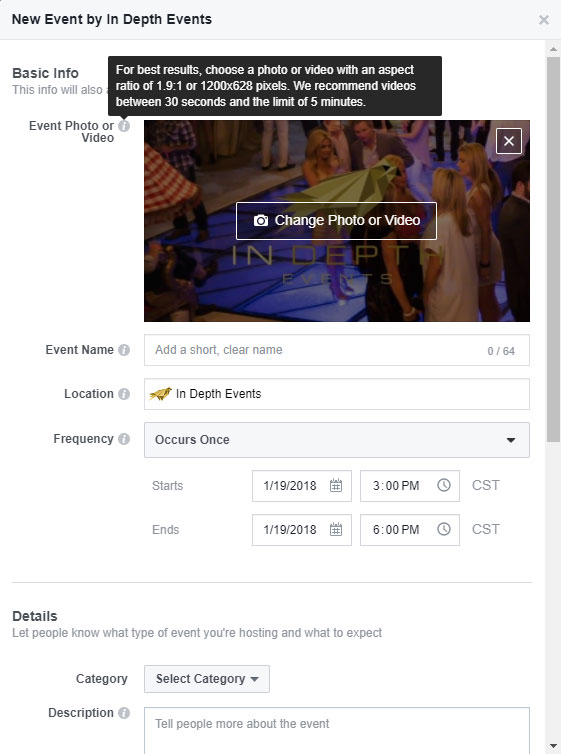 Why Should You Use a Facebook Event Page to Promote Your Event?
Facebook Event Pages are like flyers who help reach more people than any piece of paper ever could. Designing the page and being able to post videos and continuous content grabs and holds people's attention. Creating an Event Page allows you to showcase your public event in a unique way.
There is so much excitement in creating a Facebook Event Page. Each event has such great potential to showcase and promote. I would love to help you create a Facebook Event Page that could significantly increase the attendance of your public event.
For more information about how Facebook can be used to promote your public event, feel free to email me at media@indepth.events. I would love to answer any questions you have and discuss how I can help you promote your event.
Look for my next post soon: The Basics of Promoting Public Events Using Facebook