Thanks for visiting our page highlighting our 32'x24' load bearing rooftop.  Our 32'x24' roof system is comparable in size to the Stageline SL250 and SL260 mobile stage.
In addition to our concert rooftops, we also provide audio, lighting, video, generator, and power distribution rentals.  Don't forget about our event management and social media services as well - guaranteed to increase engagement for your event.  Now - lets talk about this load bearing stage and rooftop structure!
Our 32'x24' self climbing stage and rooftop system
The 32'x24' stage and rooftop is our smallest stage and rooftop system.  Depending on where you live in the US, they can also be called self-climbing rooftop systems, or self-erecting rooftop systems.  No matter what you call them, they are the best way to provide a covered stage for smaller festivals, outdoor fundraisers, House of Worship events, and concert events.
Typically used for crowds of 3000-5000 people, this modular stage and rooftop system provides remarkable stability and strength in a compact package.  This rooftop can hold more extensive lighting rigs, video walls, and larger banners and backdrops. With the addition of flybays, it can also hold flown audio. It can withstand wind speeds of up to 50MPH, as well as moderate to heavy rainfall.
Sensitive surfaces, Stageline mobile units and load bearing rooftops
While mobile stages are great for certain types of events, there are several applications that require a self-erecting stage and roof system.  Any venue with a sensitive surface will benefit from using a self erecting rooftop.  This includes venues like baseball or football fields, city parks, and areas with a high degree of grade are idea for self climbing roof systems.  Load bearing rooftops can also be more creative with banners and signage.  Finally, self erecting rooftop systems can be more financially attractive, especially for multi-day events.
There have been questions about the safety of self erecting rooftops versus mobile stages built by Stageline and Apex.  The fact of the matter is that our load bearing stage and roof systems are just as safe, or safer than their mobile stage contemporaries.  At In Depth Events, our technicians are rigorously trained on safety procedures.  For more information about safety, please download our "Rooftop Emergency Procedures".
Please see below for our gallery of this 32'x24' stage and rooftop system.  Or, you can Ask Us a Question to find out more about our concert roof system rentals.  Our friendly event professionals can help you with your needs anywhere in the United States.  We look forward to hearing from you and working with you!
Specifications:  32'x24' stage with 36'x25' gabled rooftop.
Options: Flybays, staging wings
Download our ballast plan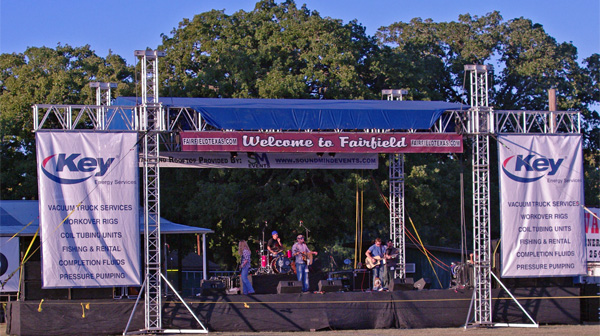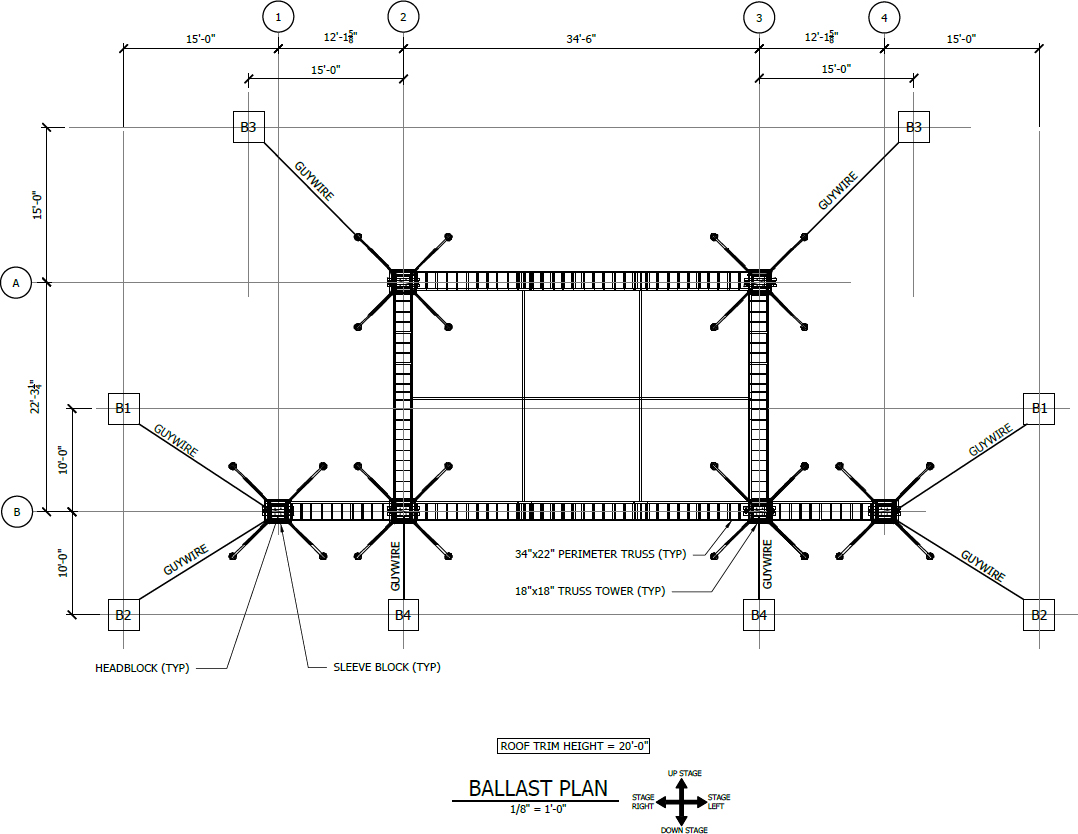 IDE3224 Ballast Plan
This is the typical ballast plan for our 32'x24' stage and roof system. The structure is shown here with the optional 10' flybays.