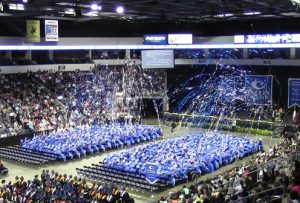 (November 12, 2020 UPDATE) The 2021 season is coming up, and we are all watching developments closely to see how COVID and the calls for social distancing will affect indoor and outdoor commencements this year. We are working hard to make sure our client schools comply and provide safe events for their students! *Here is our most recent post with updates
Contact our team today for more information, planning, and any questions you may have. We are all in this together.
While our team has done everything from concerts to festivals, and even wedding events, we have to say that commencement ceremonies are one of our favorites. Watching future generations walk across the stage to start a new chapter in their lives is pretty incredible.
Many of our clients come to us through one of our daughter websites, Texas Stage Rental. Through this site, we've provided commencement event rentals for stages for hundreds of commencements and graduation events across Texas, Louisiana, and Oklahoma. However, at In Depth Events, we offer more than just the staging rentals for commencement ceremonies. We also provide rooftops for outdoor commences, chair rentals, audio rentals,lighting rentals, and video rentals.
Choosing a production vendor for commencement event rentals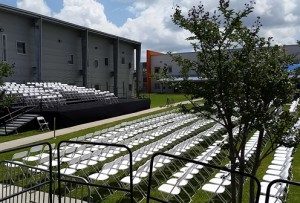 Stage rentals for commencement ceremonies are unique because it's not professional musicians or talent on the stage. Instead, you have a whole line of normal people, half of which have never worn a robe before, all parading up and down stairs in front of thousands of the family and friends. What could go wrong?
Nothing – as long as you use a good staging vendor. Making sure the stage is secure, and your attendees are safe is our Number 1 job. Furthermore, we're experts with ADA requirements for step units, handrails, and ADA ramps. Our team doesn't only handle equipment and staging set up, but our professional technicians also stay on-site to make sure everything goes to plan.
Production requirements for indoor and outdoor graduation events
Putting up a stage on a football field is one thing. Making sure that the attendees hear and see the entire event is something else altogether. However, at In Depth Events, we've still got you covered. Our production services include rooftops for outdoor shows and flown truss for indoor events. Lighting rigs, audio systems, and video services are all part of our collegiate and high school clients. Seating for the audience is just as important as the staging for the graduates. We offer audience seating risers, VIP seating risers for disabled or VIP guests, and chair rentals. Finally, our special effects staff offers unique items like cryo effects, confetti cannons and confetti blowers for our graduates. Make sure to look below for a video of our annual confetti effect for Collin College!
Virtual commencement ceremonies
At In Depth Events, we understand the need for alternative commencement solutions. Therefore our team offers hybrid and virtual commencement services. Whether you need to live stream your graduation ceremony or meet the requirements for a hybrid gathering, our team is happy to help. We wrote a little more about these services on our blog.
Ask a Question of our commencement event experts and how we can provide the live event production services necessary for your graduating class.  We look forward to hearing from you and working with you!