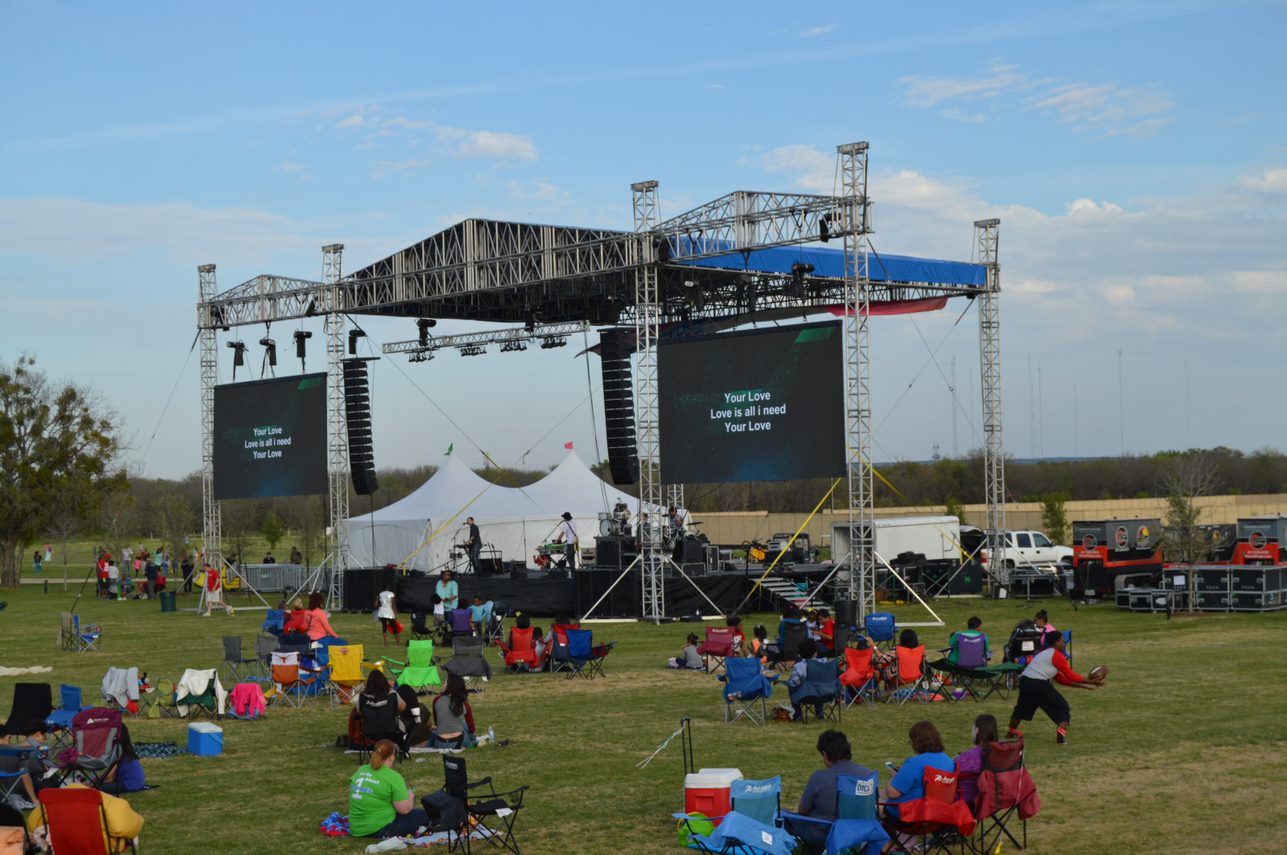 Are you a house of worship and planning your next event? At In Depth Events, we have over 25 years of experience providing high-quality rentals, custom-built stages, and event production services to our awesome clients. We understand the unique needs a house of worship event requires, whether that's seating arrangements, audio for your live music, or creating a stage to fit your choir (risers included).
Stages and seating
We have many staging options for you to choose from. We offer custom-built indoor stages, indoor seating risers, outdoor stages with custom-built roofs, and modular stages. No matter space or location, we can create custom options to fit your needs. Our team is well known for providing unique solutions for just about any size space and offer both permeant and non-permanent options.
Lighting
Lighting is incredibly essential for your event, whether that's putting the spotlight on your guest speaker, or creating a fun and bright space for your guests to enjoy. Lighting can also significantly affect the mood at your event and amplify your impact when singing worship songs or even highlighting an outdoor band. At In Depth Events, we offer the latest technology to provide a unique and customizable experience for you and your guests.
Audio
You want your message to be heard, and we want to help you do just that! Audio is critical for everything from guest speakers, to playing music, and making sure your choir is heard crystal clear. We don't just want your audio to be loud; we want it to sound amazing, and we offer high-quality audio rentals to do just that.
So why work with us?
To put it simply, we care—we aren't here to just sell you a rental. We offer on-site technicians to set up and make sure everything goes to plan. We don't just hand you the equipment and run, and we work hard to ensure that every option is tailored to your needs. Our team of professionals is always on time, dressed professionally, and ready to help. We take the time to listen to your needs, work with your budget, and get creative to find the best solutions.
We also offer cloud-based live video streaming and video production services. Whether you need to host your event virtually for those who couldn't make it, raise awareness, fundraise, video streaming is perfect for reaching a wider audience. You can learn more about video offerings over here.
We would love to help you with your next event, so feel free to ask us a question or schedule a consultation today! We can't wait to gets started working with you.